2019 PGC report: US natural gas resources at record high
The U.S. possessed a total technically recoverable resource base of 2,817 trillion cubic feet (Tcf) as of the end of 2018.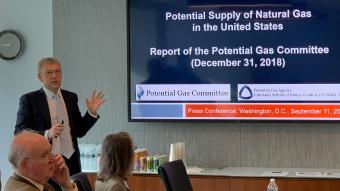 U.S. natural gas resources are at an all-time high, according to the latest biennial assessment from the Potential Gas Committee (PGC).
The U.S. possessed a total technically recoverable resource base of 2,817 trillion cubic feet (Tcf) as of the end of 2018, the highest level in the committee's 54-year history and up 20 percent over the previous high in 2016.
The committee released its report on September 11. It was published by the Potential Gas Agency at Colorado School of Mines, which provides guidance and technical support to PGC.
"This seventh consecutive record-high resource evaluation by the PGC confirms that the U.S. has an abundance of natural gas. These resources are present in various reservoirs both onshore and offshore," said Dr. Alexei V. Milkov, Professor of Geology and Geological Engineering and Director of the Potential Gas Agency. 
The assessment measures technically recoverable natural gas resources, a mix of both discovered and undiscovered reservoirs that range in certainty from probable field extensions to speculative new basins. The analysis does not consider pricing or regulatory factors.  
The increase -- the largest two-year increase in absolute resources between evaluations in PGC history -- is a result of reassessments of shale gas resources in the Atlantic and Mid-Continent areas and conventional and tight gas in the Mid-Continent and Rocky Mountain areas, Milkov said.
"More well drilling and continuous improvements in completion and stimulation technologies lead to better delineation and characterization of U.S. gas resources, especially in shale and tight reservoirs. The record gas resources assessed by the PGC, in addition to record reserves and production reported by EIA, display a picture of strong supply of natural gas in the U.S. for many years to come." 
The U.S. Energy Information Administration (EIA) of the U.S. Department of Energy estimates the nation's proven gas reserves. Total U.S. future gas supply consists of the reserves reported by EIA and resources reported by PGC and now stand at an all-time record 3,838 Tcf. 
The Potential Gas Committee, an organization of about 80 volunteer geoscientists and engineers, receives guidance, technical assistance, training, administrative support and assistance in member recruitment and outreach from Colorado School of Mines' Potential Gas Agency. The PGA is supported by prominent E&P companies, gas pipeline companies and distributors, trade associations and individuals.
For more information on the latest PGC assessment, Potential Supply of Natural Gas in the United States (December 31, 2018), go to potentialgas.org/press-release.