$3M gift creates honors program with a leadership focus
Grandey Leadership by Design First-Year Honors Experience will prepare students to lead industry and society while building community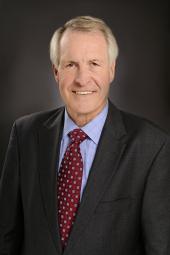 Jerry '68 and Tina Grandey have made a $3 million gift to Colorado School of Mines to create the Grandey Leadership by Design First-Year Honors Experience.
The year-long program will teach first-year students leadership principles alongside ethics, communication, innovation and entrepreneurship, and research and design skills to lead industry and society while building community.
"Tina and I are making this investment as part of the MINES@150 campaign to make sure that students can take leadership skills into the workplace and be the leaders that this country and this world will need," said Grandey, who is chair of the Colorado School of Mines Foundation Board of Governors.
Mines President Paul C. Johnson says that the Grandeys' gift has enabled Mines to add another much-needed and distinctive option to its growing suite of signature student experience opportunities – a key priority of the MINES@150 strategic plan.
"When we were developing the MINES@150 strategic plan, we were strongly encouraged to focus on producing leaders, and not just graduates who are distinguished by their technical problem-solving abilities," Johnson said. "Jerry and Tina's gift and their vision for a leadership-focused honors program helps us to accomplish that. We expect this new honors program to attract those top students from around the country who have interest in STEM fields and who aspire to be future leaders in industry and society."
Toni Lefton is executive director of Mines' University Honors and Scholars Programs and assistant provost of Signature Student Experience. She said this new honors program is designed for students who articulated interest in studying and applying leadership concepts and connecting socio-technical frameworks on their applications, among other factors. This year, the program accepted 65 students with plans to double that next year, she said.
"These students think, I'm going to be an engineer, but I also want to be a leader," she said. "The Leadership by Design honors experience will teach them how to ask big complex questions and to think about what they value, who their stakeholders are and what problem are they even trying to solve."
Students will design a personalized leadership portfolio through reimagining and integrating learning outcomes for two core classes in the Grandey honors experience: an intro to design course and a core communications and ethics course, alongside other classes. They will also participate in co-curricular and extracurricular activities that teach and apply leadership firsthand from year one to graduation.
"Leadership is extremely important, and it doesn't really make any difference whether you're the CEO or a researcher," Grandey said. "You are leading all the time, if only by example. So, to me, developing the quality of leadership, the language of leadership, is extremely important. Students should be exposed to it at the very first opportunity when they come to Mines."
Lefton said the program is unlike any other in the United States because it ties an honors leadership experience to the Grand Challenges for Engineering, making it an entry point for the National Academy of Engineering's Grand Challenges Scholars Program.
"Our graduates need to be nimble to solve these engineering grand challenges," Lefton said. "We want to facilitate systems-minded thinking for a world that's connected through technology, tools, culture, politics and public policy. We want to foster the leadership thinking and communication that will let students tackle what we don't know is coming."
Leaders must speak and present well, and they have emotional intelligence that allows them to empathize with their coworkers and employees, and with the people they are solving problems for, she said.
The program is configured to be interdisciplinary, bringing together students with different academic interests around the leadership and grand challenges theme. Students can also choose to live together in a themed living community.  The new honors program adds to other recently launched programs at Mines focusing on leadership and professional development, including the Grewcock Presidential Scholars and Vallejo-Irvine Professional Development programs.
Lefton said the program will also open opportunities for students to be Mines leaders throughout their college careers, including mentoring first-year program participants, becoming teaching assistants to help shape the evolving curriculum, or being a resident assistant in the themed living community.
"Ultimately, I hope that the Grandey first-year honors experience leads to a strong pathway to becoming an effective leader and impactful global citizen," Lefton said.