Berik Burgumbayev: "I chose Mines because it has one of the most prestigious Petroleum Engineering programs in the world."
Ayagov, Kazakhstan
Master's Student, Petroleum Reservoir Systems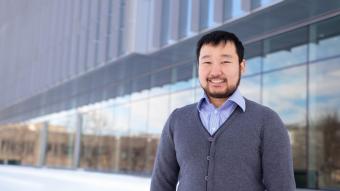 Why did you choose to come to Mines? What have you enjoyed most about being here?
I went through a long search for grad school, comparing many options at different universities. At the end, only one choice remained--it was Colorado School of Mines! It is one of the most prestigious Petroleum Engineering programs in the world. Also, I enjoy studying with top professional faculty members.
Tell us about something you're working on right now that you find exciting, fulfilling or challenging?
Right now, I have several classes but one of them is extremely challenging for me. That class involves not only deep reservoir modeling but also requires mathematical and coding ability.
Have you done an internship or co-op or been in a professional job while at Mines? Tell us who you worked for and what you were doing. What stands out?
It is my second semester at Mines. I haven't done any internships yet, but I'm doing my best to find one. It would be a great opportunity to sharpen my knowledge and show my skills.
What communities, groups or organizations—on- and off-campus—are important to you and why?
I'm a member of the Kazakh Student Association (KSA). In KSA we organize different events in order to help newly admitted Kazakh students to adapt and also strengthen friendships between students from Kazakhstan, the United States and other countries.
What are your plans for the future? What's your dream job?
I have a governmental scholarship from Kazakhstan. After graduation, I plan to back to my country and use all my gained knowledge in industry as well as to share on an academic level in universities.
What would you tell someone interested in joining your academic program or Mines in general?
Focusing on your future career can help motivate you to study hard and do incredible things. Be patient. You can't control how fast the long-term goal happens but you can control the speed of execution of short-term goals.
What's your favorite thing to do outside of class and coursework? How do you unwind, manage stress, find fulfillment, etc.?
I like to spend time with my family, play basketball and go hiking. I like basketball because it gives me a sense of competition. 
Physical activities also help me relax and keep me healthy and fit.
Tell us something about you that most people would be surprised to learn?
I met my wife during the application process to Colorado School of Mines. She teaches math and I took several classes to prepare myself for the GREs. We married during my first semester at Mines!