Colorado School of Mines to hold in-person commencement for Spring 2021 graduates
Multiple ceremonies will celebrate undergraduate, graduate and Class of 2020 alumni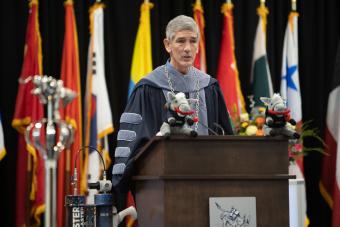 Colorado School of Mines will hold in-person commencement celebrations for Spring 2021 graduates following the most current state and local health and safety guidelines for graduation ceremonies.
Mines will hold ceremonies on Thursday, May 13, at 2 p.m. for PhD and master's degree candidates, and Friday, May 14, at 9 a.m. and 1 p.m. for bachelor's degree candidates. A ceremony honoring all 2020 Mines graduates will take place on Saturday, May 15, at 10 a.m. All four ceremonies will be held outdoors at Marv Kay Stadium and will take place rain, snow or shine.
"Mines looks forward to celebrating our May 2021 graduates, as well as graduates from the Class of 2020, in as safe a setting as possible," said Peter Han, Mines' chief of staff. "Our students have worked hard to achieve their goals and deserve a commencement celebration that highlights those achievements. Mines is pleased to be able to hold in-person commencement ceremonies this spring, and we continue to work closely with local health officials to ensure all the latest health and safety guidelines are considered as we finalize our plans."
Health and safety protocols will be in place at all four ceremonies. Following Jefferson County guidelines, all students, guests and staff are required to wear face masks covering their nose and mouth.
To ensure appropriate social distancing, tickets will be required for all guests. Guests will be seated in pods, identified by the name of the graduate on their ticket. All seating, for pods and for graduates, will be socially distanced. Masks and hand sanitizer will also be available, and all facilities will be sanitized between ceremonies.
Mines Board of Trustees Chairman Thomas Jorden '80, president and chief executive officer of Cimarex Energy Co., will be the commencement speaker at the undergraduate ceremonies.
A live webcast will be available on the Mines YouTube channel (https://www.youtube.com/channel/UCe7BEODHArpLb4F6yl6cr6Q).
For more details about Spring 2021 commencement, visit commencement.mines.edu.