Colorado School of Mines, SEG sign landmark agreement to create Samarkand International Technical University in Uzbekistan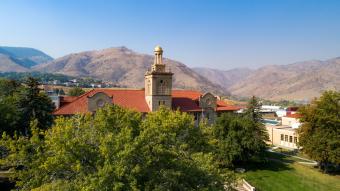 Sanoat Energetika Guruhi LLC (SEG) and Colorado School of Mines (Mines) have signed an agreement to create an international, English-speaking, American-model university in the Samarkand region of the Republic of Uzbekistan.
SEG and Mines, one of the world's leading engineering institutions, will collaborate on the establishment of the private university as part of a national program of improvements to the Uzbek education system.
Samarkand International Technical University (SITU) will aim to educate students to the highest international standards, and train personnel in areas such as mining, metallurgy, gas chemistry, petrochemicals and mechanical engineering, as well as entrepreneurship and leadership.
The mining and energy sectors make up a significant share of Uzbekistan's GDP. As the country's ambitions in the mining and energy sectors continue to grow, there is an acute need to develop local skills and expertise to answer the demands of new economy. It is anticipated that SITU will train specialists for oil and gas facilities in Uzbekistan, including energy projects in the Kashkadarya and Surkhandarya regions, the Gas Chemical Complex MTO in the Bukhara region, Fergana Oil Refinery, and the Tebinbulak and Temirkan metallurgical projects and others.
"For the new Uzbekistan, which is on the path of political and economic modernization and is successfully carrying out deep socio-political and socio-economic reforms, it is important to increase scientific and academic cooperation and integrate into the international educational system," said Bakhtiyor Fazilov, SEG's majority shareholder. "Human capital is the driving force of any positive change, and it is via the implementation of such projects we will provide local businesses and the state with scientific talent and highly qualified personnel to achieve their goals."
"Colorado School of Mines is honored to contribute our nearly 150 years of expertise in earth, energy and environment toward the creation of Samarkand International Technical University," said John Bradford, vice president of global initiatives at Colorado School of Mines. "To meet the demands of the global energy transition, we need more scientists and engineers who understand the technical, social, policy and environmental challenges of resource extraction, not just in the United States but around the world. Mines is one of the world's foremost authorities on the responsible stewardship of the Earth's resources, and building a school from scratch, as we are with SITU, is an exciting opportunity to rethink engineering education for the 21st century."
SITU will offer a broad range of STEM-focused programs at the undergraduate, graduate and doctoral level. The university will operate various centers for professional development, including a center for the culture and history of Uzbekistan. Education will be provided according to Mines' programs and curricula.
Under the agreement, which was signed last week in New York, Mines will help initially to develop the university's Academic Master Plan and curriculum, provide recommendations on campus infrastructure, and assist in the hiring of SITU's executive leadership and faculty. Mines will also support the creation of an innovation center and laboratory modeled on its McNeil Center for Entrepreneurship and Innovation.
The idea of ​​creating an English language educational center of international format and standards in Uzbekistan in the fields of mining, metallurgy and oil and gas was advanced by Fazilov to contribute to the state's program of improving Uzbekistan's education system and ensuring sufficient supply of world-class engineering personnel. SITU has already received the support of Uzbekistan's leadership and the Mayor's Office of the Samarkand region, which has allocated land in the suburbs of the city for the university's campus.
About SEG
Sanoat Energetika Guruhi LLC (SEG), formerly Jizzakh Petroleum, was established to accelerate the development of the energy sector in Uzbekistan. SEG has the rights to exploit 105 oil fields in Uzbekistan. The company has experience of successful cooperation with such international companies as Gazprom, Amec Foster Wheeler (Wood), Axens and others.
About Colorado School of Mines
Colorado School of Mines is a public university focused on science and engineering, dedicated to educating and inspiring students, advancing knowledge, and innovating to address the great challenges society faces today—particularly those related to earth, energy and the environment. Founded in 1874 with specialties in mining and metallurgy, Mines' scope and mission have expanded to meet the needs of industry and society, producing distinctive graduates and revolutionary innovations, and becoming a world leader in advancing sustainable use of the Earth's resources.