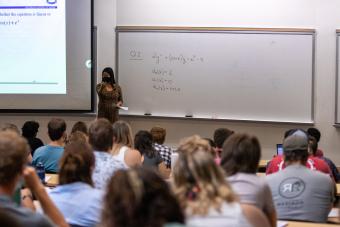 Colorado School of Mines kicked off its 2021-22 academic year today, with a full return to in-person learning – and the largest freshman class in university history. 
About 1,580 first-year and transfer students are enrolled at Mines this fall, the largest freshman class in university history. Mines officials credit the university's pandemic response and commitment to in-person learning last year, as well as Mines' unchanged, strong return on investment for students, as reasons for the size of this year's incoming class.  
Incoming first-year students returned to campus last week and began their Mines journey with Convocation on Aug. 19, followed by the traditional M Climb up Golden's Mount Zion the morning of Aug. 20. 
New and returning students have a lot to look forward to this year. This includes: 
The launch of The Mines Rover, a free, driverless 100 percent electric shuttle service connecting the Mines campus and downtown Golden 
The return of fall sports – and fans in the stadiums – with highly ranked Oredigger teams taking the field and pitch. Men's football kicks off the season at Marv Kay Stadium on Thursday, Sept. 2, at 6 p.m. vs. Western Oregon. Women's soccer hosts a home opener with spectators in attendance at Stermole Soccer Stadium on Sept. 2 at 2 p.m. vs. Simon Fraser. 

Groundbreaking on the Labriola Innovation Center, a new hub for innovation and entrepreneurship on campus made possible by a generous lead gift from Frank '52 and Mary Labriola.  

Opening of the Venture Center  

New undergraduate minors, including space mining, aerospace engineering and quantum engineering 
To start the fall semester, all Mines students and faculty are required to wear face masks during all indoor classes, teaching labs and computer labs, regardless of vaccination status.  
The university also put into place a COVID-19 vaccination requirement for all campus community members. Today is the deadline to comply with the requirement by either providing proof of vaccination or filing a medical or nonmedical exemption form. 
"Our goal for this academic year is to offer the distinctive, in-person and on-campus experiences that Mines is known for," Mines President Paul C. Johnson wrote in a message to campus earlier this month. "That means utilizing our classrooms and laboratories at normal capacities, allowing indoor student organizations to meet with food, having fans at our sports events, and offering a full suite of extramural and extracurricular programs. We are on track to do that." 
As the fall semester gets underway, Mines officials will continue to closely monitor the COVID-19 pandemic and the impact of the Delta variant. A revised Oredigger Promise, reflecting the evolving understanding of the virus, has been put into place to encourage all on campus to do their part to protect themselves and the community.  
Among the other health and safety measures in place this year: 
Mines has renewed its partnership with COVIDCheck Colorado to provide free and convenient COVID-19 testing for all students, faculty, staff and community members. 
The Mines COVID-19 Response Initiator Team (CRIT) continues to work closely with local public health officials to identify and alert close contacts and take actions aimed at limiting potential spread whenever a Mines community member gets sick. 
Mines is also hosting two on-campus vaccination clinics this week to coincide with the start of classes. The first clinic is today from 10 a.m. to 2 p.m. on Kafadar Commons. The second is scheduled for 4 to 6:30 p.m. Friday, Aug. 27 in conjunction with the return of an in-person Celebration of Mines.  
Both clinics are being offered in partnership with Jefferson County Public Health, and all three FDA-authorized vaccines (Pfizer, Moderna and Johnson & Johnson) will be available, including second doses of Pfizer and Moderna.