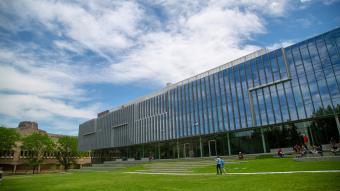 The CoorsTek Center for Applied Science and Engineering at Colorado School of Mines was recognized at the 2019 Design & Honor Awards of the American Institute of Architects Colorado, held September 13.
Internationally renowned architectural firm Bohlin Cywinski Jackson, in partnership with Denver-based Anderson Mason Dale Architects, designed the nearly 100,000-square-foot CoorsTek Center, which was completed in September 2017 at a cost of $50 million.
The two firms shared an Award of Distinction, given for projects that exemplified innovative use of materials, space and design while creatively addressing the design challenge.
"Particularly in times of rapid growth like Colorado has been experiencing, it's critical to pause and celebrate the excellent architecture that is propelling us into the future. This year's award recipients are leading the charge in creating innovative and inviting buildings that positively impact the communities they serve."
2019 AIA Colorado President Zachary Taylor
The CoorsTek Center is located on the corner of 16th and Illinois streets in Golden, site of the former physics building, Meyer Hall. It features forward-thinking design with flexible lab space and technologically advanced classrooms to foster interactive, hands-on learning. 
The building has a metal-and-glass façade punctuated by service cores clad in dark masonry, helping anchor the entrances. Floating horizontal masonry panels made of the signature pale brick used throughout campus add visual interest and introduce a modern aesthetic using a historical palette.
CoorsTek's northwest exterior faces Kafadar Commons and consists of full-height windows on the ground level and vertical glass panels and metal fins above. Behind that is an atrium that offers panoramas of campus as well as seating and collaborative work areas of various types and scales, emulating tech workplaces.