Cornerstone Design challenges Mines students to improve disaster response
Winning the semester-long design challenge was a solution for making temporary housing for refugees more durable, sustainable, easily deployable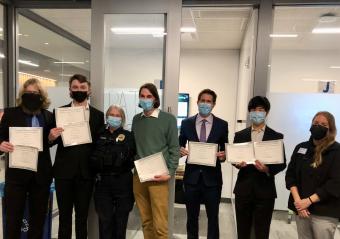 What technical solutions could lead to improved disaster response, recovery, prevention or preparedness both in our own backyard and around the world?
That's the question Mines students tackled during the Fall 2021 Cornerstone Design Competition, which held its final pitch event Dec. 8.
Winning the semester-long design challenge – and the $1,000 grand prize – was a solution for making temporary housing for refugees more durable, sustainable and easily deployable.
Team P.A.T.H – short for Portable Accessible Temporary Housing – envisioned an inexpensive, modular and reusable structure that could both be easily assembled and accessed via wheelchair ramp. The entire structure would ship on a standard 48-inch pallet. Forming the winning team was Dillan Miller, Christopher Currie, Eugene Lee, Robert Gorling and Micah Peterson.
Second place and $500 went to Sam's Club for its solution to decreasing the negative physical effects on wildland firefighters from the transporting of necessary tools and equipment. The Tool SPASS (Shoulder Pad and Strapping System) includes a cushioned heat-resistant shoulder pad, with better weight distribution and easy on-off, for carrying equipment like chainsaws. Team members were Alaina Clar, Samuel Eggers, Brianna Fava, Sophia Mulholland and Noe Avila.
Third place and $250 went to Water Wrangler for the Emergency Window Escape System, designed to reduce the number of vehicle-related flood fatalities. Team members were Henry Sells, Jacen Brown, Joshua Rouault and Noam Ayalon.
Team P.A.T.H. also won the Subject Matter Expert Award, a special prize given by the semester's judges to the most needed and realistic solution to real-world problems.
Required for all Mines undergraduates, Engineering, Design & Society's Cornerstone Design I is a semester-long hands-on, human-centered and open-ended design project course where student teams must investigate, define and solve their own challenge within a given topic or problem space. The final competition pits the top project idea from each of approximately two dozen class sections against each other.