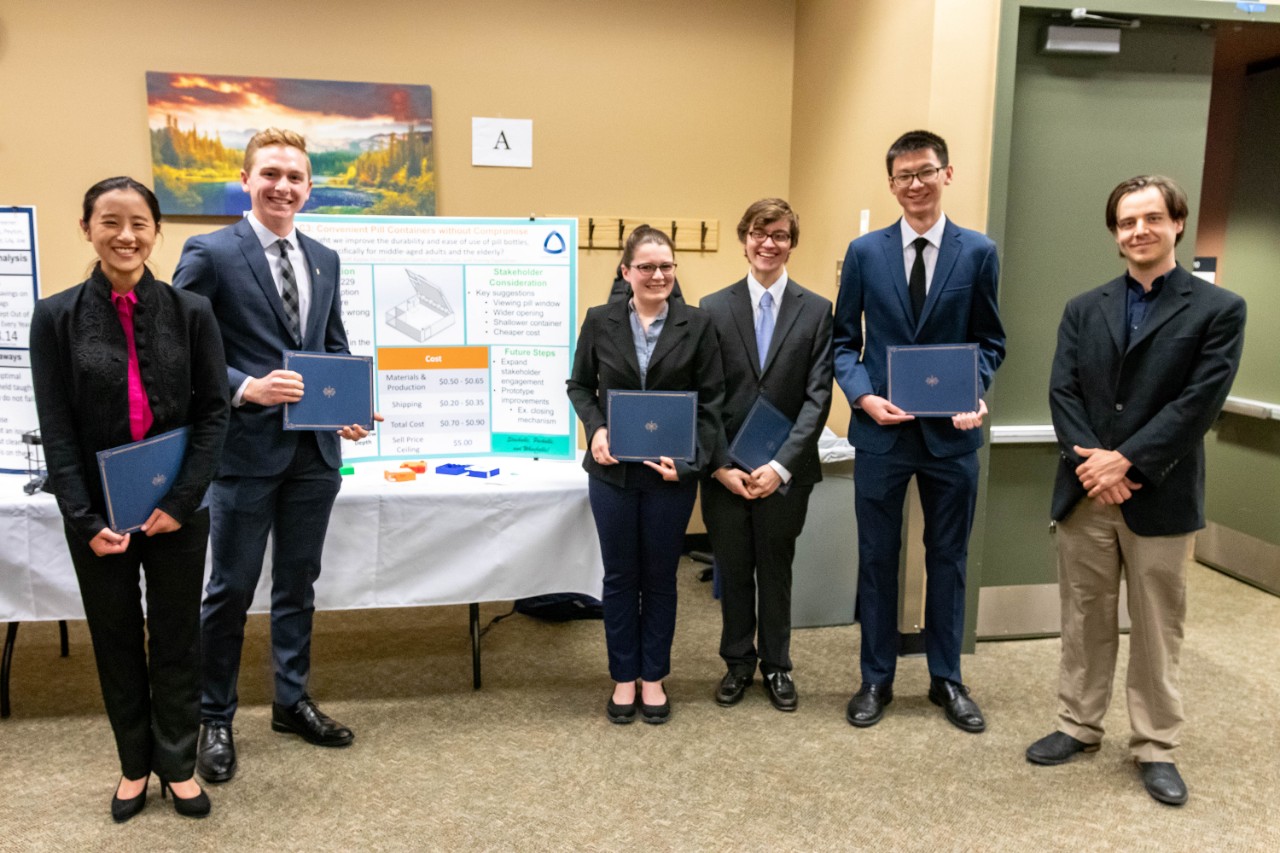 A user-friendly organizable container for prescription medication won top honors at the Spring 2019 Cornerstone Design Final Competition on May 1.
Cubic Solutions won first place and $1,000 for "C3: a Convenient pill Container without Compromise" in the competition, which pits the top team from each class section of Introduction to Design at the end of every semester. The Spring 2019 design challenge focused on reexamining packaging and finding novel solutions to improve the safety, effectiveness, sustainability, cost and ease-of use of packaging and distribution systems. 
Members of the winning team were Andrew Dayhoff, Kaylee Ferrell, Christian Gaither, Nicholas Jarmusz and Thomas Papenthien.
Earning second place and $500 were the Designerds for The Vac-Pack, an insulated backpack that can both vacuum-seal foods using a pump system and cool them using an endothermic chemical reaction. Team members were Julian Reynolds, Ryan Park, Jason Tilley, Arthur Neyland and Eleanor Taylor.
Third place and $250 went to Team Don't Pack it Out, which would replace dehydrated backpacking food packages with water-soluble, edible packaging to increase convenience for hikers and help eliminate trash left behind in the outdoors. Forming the team were Dagny Stahl, George Goldade, Frank Enciso and Sarah Rodpai.
Required for all Mines undergraduates, Intro to Design is a semester-long course whose centerpiece is an open-ended design problem that students must solve as part of a team effort.
CONTACT
Emilie Rusch, Public Information Specialist, Communications and Marketing | 303-273-3361 | erusch@mines.edu
Mark Ramirez, Managing Editor, Communications and Marketing | 303-273-3088 | ramirez@mines.edu