Daymond John named 2022 Homecoming Distinguished Lecturer
The CEO of FUBU and star of 'Shark Tank' will speak on Thursday, Oct. 6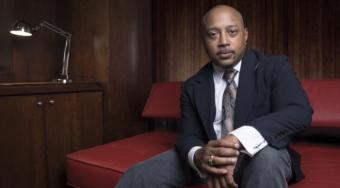 Daymond John will be the 2022 Homecoming Distinguished Lecturer at Colorado School of Mines.
John, chief executive officer of clothing brand FUBU and one of the investors on the hit ABC reality series "Shark Tank," will give a talk on Thursday, Oct. 6 entitled "Daymond John's 5 Shark Points: Fundamentals for Success in Business and Life."
Now part of the core group of expert investors – or "sharks" – on "Shark Tank," John created FUBU at a young age and took it from a $40 budget to a $6 billion fashion industry leader. In 2013, he was appointed by President Barack Obama as an Ambassador for Global Entrepreneurship, promoting the power and importance of entrepreneurship to young entrepreneurs, creators, innovators and investors around the world. He is the best-selling author of five books on business management and leadership. 
Mines will celebrate its 2022 Homecoming on Thursday, Oct. 6 through Saturday, Oct. 8. Tickets for the Homecoming Distinguished Lecture will become available to Mines students, faculty and staff on Sept. 19. Tickets can be secured online: https://mines.universitytickets.com/w/event.aspx?id=1763&r=ac63f9bc418c4e39bda321f5407a31be
Mines students will have the opportunity to interact with John at a meet and greet after the event from 8 to 9 p.m. To sign up for the chance to be considered, complete this form no later than Friday, Sept. 23: https://forms.office.com/r/495NdmFj5J
For more information about Homecoming and a full schedule of events, visit the Mines Activities Council website: https://www.minesactivitiescouncil.com/homecoming.