Ethan Perry: "Mines is the perfect place if you are interested in a high-quality program full of opportunities."
Littleton, CO
Computer Science Student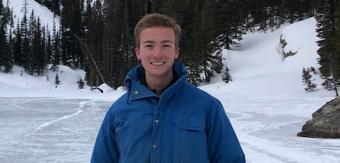 Why did you choose to come to Mines? What have you enjoyed most about being here?
I have lived in Colorado my entire life and love the state. I ended up deciding between Colorado schools and ultimately chose Mines for more than one reason. Upon visiting and meeting other Mines students, I felt it had a great community, amazing academics and friendly professors.
The thing I have enjoyed most about Mines is the immense support and opportunity offered by the professors. They consistently strike me as caring people and always appear to be looking out for students the best they can. I also love the location of Mines, being in one of my favorite areas state-wide.
Tell us about something you're working on right now that you find exciting, fulfilling or challenging?
I am currently working on a research project with the purpose of helping alleviate traffic issues in the Denver Metro Area and beyond. Society is facing huge issues with urban infrastructure and traffic, so it is my hope that new research, specifically in computer science, may be able to help solve some of these issues.
Have you done an internship or co-op or been in a professional job while at Mines? Tell us who you worked for and what you were doing. What stands out?
I have participated in a few internships during my time at Mines. My first internship was with Lockheed Martin during the summer before and throughout both semesters of my freshman year. I helped contribute to the beginnings of a mars rover VR simulator and was also on a team to hire on some new interns for the following summer. In the spring of 2020, I was given an opportunity to join the Azure Quantum team at Microsoft and spent the summer developing the main dashboard, analytics and SKU selection features for the team's new product. I ended up taking a gap semester in the fall of 2020 and transitioned over to interning with Tesla, working with the Supply Chain Automation team in the San Francisco Bay Area. I helped break a bottleneck for the team, upgrading their automated fulfillment system from outdated and failing hardware. I am looking forward to working with Microsoft again this summer as an intern on the Azure IoT team, helping develop a new IoT service for corporate customers.
Undoubtedly my experience with developing a new product for Microsoft and optimizing the inner workings of Tesla's manufacturing supply chain have been the stand-out experiences for me.
What communities, groups or organizations—on- and off-campus—are important to you and why?
The group I am most involved with on campus is our club triathlon team. I competed in triathlons throughout high school and joined the team the fall of my freshman year. I have enjoyed getting to know members of the team, being a part of team leadership and racing in several triathlons over the past couple of years. I have also had a great experience leading a volunteer STEM program at an elementary school in Littleton. I am looking forward to continuing to volunteer with the program throughout the future.
What are your plans for the future? What's your dream job?
My dream is to make the world a better place. I don't know exactly what the best way to accomplish this is just yet, but I hope to be a big component of fixing worldly problems like educational inequality and global climate change. I feel I may have the opportunity to make a difference through a career in research, and I am hoping to find novel ways to confront these issues with revolutionary innovations in the field of computer science.
What would you tell someone interested in joining your academic program or Mines in general?
Attending Mines is doubtlessly one of the best decisions I have made. It has given me countless opportunities to excel and follow my dreams. Plus, I feel that the Mines program is only becoming more rigorous and prestigious with each passing year — we have amazing faculty and administration who are working hard to lead this university to success. I will add that the Department of Computer Science is doing a particularly good job at preparing students for their careers, whether in research or as engineers. Within our department, we have exceedingly caring and motivational professors who consistently put effort into helping students succeed. Whether or not you decide to choose computer science, Mines is the perfect place if you are interested in a high-quality program full of opportunities.
What's your favorite thing to do outside of class and coursework? How do you unwind, manage stress, find fulfillment, etc.?
My favorite activity outside of academics would have to be either road biking or walking my dog. They are perfect ways to enjoy the beautiful outdoors of the Denver area, and they quickly relieve my stress. I also love to spend time with my friends, whether online or in-person; playing games, going for hikes or even just chatting are great ways to unwind.
Tell us something about you that most people would be surprised to learn?
Many people would be surprised to know I am a bassoon and saxophone player — I have played saxophone since 5th grade and played bassoon all throughout high school. Though I haven't been involved in music at Mines for some time, I am looking forward to possibly getting involved in the marching band and orchestra again next year.