Faculty Senate funds 12 faculty-led initiatives aimed at signature student experience
New honors and scholar communities, professional development modules and hands-on learning pathways among the funded projects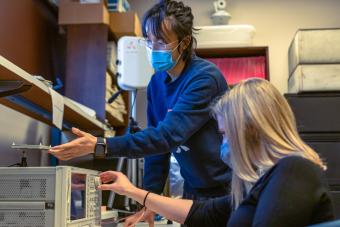 Fostering a signature student experience at Colorado School of Mines, with deliberate professional development, best-in-class student success outcomes and return on investment, is one of the core pillars of the MINES@150 Strategic Plan.
And ensuring buy-in among Mines faculty, the educators, researchers, mentors and daily face of the university for students, is a key part of that effort.
With support from Mines executive leadership and the Colorado School of Mines Foundation, the Mines Faculty Senate recently provided funding to 12 faculty-led initiatives that embody the MINES@150 commitment to bolstering hands-on learning and reimagining the preparation of Mines scientists and engineers.
From more than 50 initial expressions of interest, the 12 funded initiatives bridge multiple departments and include new honors and scholar communities, professional development modules, hands-on learning pathways and more, impacting students all along their Mines journey, from their first year to graduate school.
Some projects could launch as soon as this fall, with all set to be implemented and assessed within the next two years.
"This was a true collaboration of efforts between the Mines executive team, Mines Foundation, Faculty Senate, Faculty, Academic Affairs and Student Life. We all worked collectively to figure out how we could benefit the most students possible," said Faculty Senator Robin Bullock, teaching associate professor of Engineering, Design and Society. "We have high hopes of student success with the first set of projects and look forward to future collaborations."
The 12 funded projects are:
Mirror Mentoring at Mines
Faculty Lead: Andres Guerra, Civil and Environmental Engineering
Departments Involved: CEE, Multicultural Engineering Program, Admissions
The Mirror Mentoring at Mines Program aims to support university efforts to ensure Mines has a highly qualified student body that matches statewide demographics. Through the program, current Mines students from backgrounds underrepresented in STEM would have the opportunity to mentor high school students from similar backgrounds, with a focus on navigating the college application process for STEM careers. "This is an opportunity for current Mines students to stay connected with their community, to provide examples for their success at Mines and promote the success of others from their community," Guerra wrote.
Business in Design
Faculty Lead: Scott Houser, Economics and Business
Departments Involved: EB, Engineering, Design and Society, and Student Life
Business in Design aims to introduce Mines students to business tools and applications in the context of a design project. In the pilot year, Economics and Business faculty will deliver business content in at least two sections of Design II, with a focus on market analysis, product evaluation, entrepreneurship and project management. In the second year, that content will expand to include modules on innovation, decision-making, financial statements and additional tools for project evaluation. "Business@Mines is a central part of the Mines@150 plan where the future of Mines is found at the intersection of technical skills, business acumen, and student passion," Houser wrote.
World-Class Graduate and Professional Education
Faculty Lead: Roel Snieder, Academic Affairs, and Kamini Singha, Geology and Geological Engineering
Departments Involved: Office of Graduate Studies, Engineering, Design and Society, McNeil Center for Entrepreneurship and Innovation
The creation of a distinct Mines graduate student experience, with more opportunities for graduate students to acquire professional skills, is the focus of this initiative, which looks to develop a number of new learning and development opportunities for graduate students throughout their time at Mines. That starts with an onboarding course for graduate students, CSM 501, modeled after the one currently offered for first-year undergraduates. Faculty will also develop a number of professional development tracks that can be taken on-campus or online, as well as a leadership and innovation professional development series to prepare students to lead innovation initiatives within industry.
The Money Matters Center
Faculty Lead: Becky Lafrancois and Andy Pederson, Economics and Business
Departments Involved: Economics and Business and Student Life
Rather than create a formal center right away, the starting goal of this initiative is to find ways to integrate personal finance curriculum into existing or newly created professional development opportunities for students. Modules will be developed to target students at various stages of their academic careers, likely starting with one geared toward first-year students and one targeted at upper-class and graduate students. "We will actively seek input from the students, Student Life and other campus community members to determine the content that will be most valuable to students at various stages of their Mines experience," Lafrancois and Pederson wrote.
Nuggets Badging
Faculty Lead: Jeffrey King, Metallurgical and Materials Engineering
Departments Involved: Metallurgical and Materials Engineering and Student Life
This initiative aims to offer "badges" as a way to encourage student participation in activities outside the classroom. Initially, the badges are envisioned as digital collectibles akin to video game achievements. Ultimately, though, the badges could become official Mines credentials and part of students' permanent educational records, representing something smaller than a certificate or area of interest. "This will take discussions and negotiations across campus and cannot happen without Faculty Senate involvement and approval -- any new credential would be an academic offering, and academic offerings are the domain of the Mines Faculty," King wrote.
Immersive Gaming
Faculty Lead: Elizabeth Holley, Mining Engineering
Departments Involved: Mining Engineering, Payne Institute for Public Policy and Mines alumni
Mines is positioned to play an important role in the global energy future, and this initiative proposes to get students engaged in the discussions around the material foundations of the energy transition through a role-playing game. The half-day, hands-on role playing simulation will be based on Newtonian Shift, the participative game about the energy transition that has been used by thousands of sector leaders to date. "The game will be played in the Edgar Mine, in order to enhance the immersive experience, and provide students with an enthralling field experience at this quintessentially Mines location," Holley wrote.
M-Days
Faculty Lead: Neal Sullivan, Mechanical Engineering
Departments Involved: Every Oredigger Culture Change Working Group, Student Life and Mines Foundation
Engineering Days, or E-Days, is one of the biggest student events of the year. M-Days is envisioned on a similar scale, and this initiative will support the "next step in bringing this idea to life," an administrator to support the planning effort. This administrator will coordinate with Student Life, Student Activities, Involvement and Leadership, and the Mines Alumni Association and oversee the many action items that will arise through the planning effort.
Discovery@Mines
Faculty Lead: Allison Caster, Chemistry
Departments Involved: Physics, AMS and Honors & Scholars Programs
A new interdisciplinary Discover@Mines pathway will provide a challenging, inquiry- and problem-based integration of all the scientific and mathematics objectives of the first-year core curriculum. The initial pilot will include 48 students, but will eventually be open to any incoming student. "Mines students already arrive ready to join a community of discovers, excited to channel their passions toward shaping the future," Caster wrote. "This curriculum will fan that flame, integrating our most creative, engaged and innovative students into an exciting learning experience that transforms them into the leaders of interdisciplinary STEM fields of tomorrow, starting with their very first day in the classroom."
Preparation for Success and Excellence in Undergraduate Research
Faculty Lead: Andrew Herring, Chemical and Biological Engineering
Departments Involved: CBE and Geology and Geological Engineering
With undergraduate research a growing part of the Mines experience, this initiative aims to train and support students so they can actually do research from Day 1 in the lab. Fully realized as a course, students will be formally taught the research enterprise, including hypothesis definition, data collection, errors, reporting, ethics, repeatability, notebook management and safety, combined with a real research project with real data that aims to result in a peer-reviewed publication. At the end of the program, the students will produce a manuscript that can be submitted to a journal, including the student-run Reuleaux.
Institute for Energy Efficient Communities with Flexible Loads
Faculty Lead: Paulo Cesar Tabares Velasco, Mechanical Engineering
Departments Involved: Mechanical Engineering, Electrical Engineering, Civil and Environmental Engineering, Engineering, Design and Society
The growth in photovoltaics and sustainable buildings, capable of shifting their electric loads using smart controls and energy storage, enhances not only the Mines campus, but also the student learning experience. The new Institute for Energy Efficient Communities with Flexible Loads aims to continue that work by leveraging the expertise and student/faculty interests from the Energy Minor, Advanced Energy Systems Graduate Program, Smart Environments Design Studio and Solar Decathlon. Specifically, the institute will provide energy assessments on campus and in the wider Golden area through project-based experiential learning and deployment. Students will get to work on real world, energy efficiency problems and be mentored by Mines alumni and faculty.
Environmental Leadership Lab and Environmental Scholars Program
Faculty Lead: Shannon Mancus, Humanities, Arts and Social Sciences
Departments Involved: HASS
Taking place at the Rocky Mountain Land Library outside Fairplay, Colorado, the new Environmental Leadership Lab (ELL) is a weekend camping experience for students featuring a series of hands-on workshops and research activities, as well as active learning experiences around the theme of "environment." Following the ELL weekend, students will form a cohort of Environmental Scholars, remaining engaged in the program throughout their Mines career by serving as counselors at future labs, discussion leaders in upper-level environmental classes and advocates for environmental initiatives across campus.
Supporting Student Chapters
Faculty Lead: Neal Sullivan
Departments involved:  Mechanical Engineering, Student Life and Mines Foundation
Involvement in national professional societies is an important part of the Mines experience and this initiative aims to advance engagement to further the experience of students. Over the summer, faculty advisers will work with student chapter leadership to create new, meaningful programming to be executed by the student chapter during the coming academic year.