Girls get hands-on science experience at Full STEM Ahead
A partnership between Mines and Nexus Controls, summer camp gives local middle schoolers the opportunity to participate in STEM activities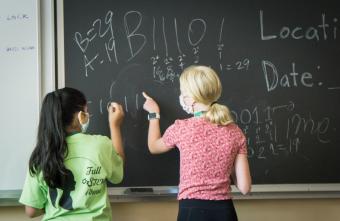 Full STEM Ahead, a three-day summer camp giving Denver area middle school girls the opportunity to try hands-on activities in science, technology, engineering and math, will be held at Colorado School of Mines on July 18-21. Nexus Controls, a Baker Hughes business, is sponsoring the camp.
Over the three days, around 30 students entering eighth grade at D'Evelyn Junior/Senior High School and Alameda International Junior/Senior High School will participate in a large array of STEM activities. Those activities range from an "escape room" that requires math and non-linear thinking to solve puzzles, building a cardboard lunar rover and creating tie-dye patterns to learn about chromatography.
New this year is an Intro to College Day, where attendees will take a tour of the Mines campus and participate in a campus scavenger hunt.
"Mines is a highly research active R1 STEM institution and bringing young women interested in STEM to campus is a great way to show our support for these students," said Jessica Jackson, research assistant professor of chemistry at Mines. "They're the future of science and engineering."
By attending Full STEM Ahead at Mines, campers will get a taste of what it would be like to pursue a STEM career in the future, as well as the potential opportunities in the Denver area related to their goals.
"Full STEM Ahead is a wonderful opportunity to support STEM in our local community," said Jaime Butler, Global Operations Leader at Nexus Controls. "Early engagement with young women is key to sparking their interest in STEM-related careers. Hands-on experience and interaction with our Nexus Controls and Mines teams allows the students to gain confidence and develop skills that can be applied in the real world.  Supporting the development of future talent is vital for  our business and industry as we focus on  driving energy forward."
Once camp is over, participants will be encouraged to continue to stay connected with Full STEM Ahead. Throughout the school year, Nexus Controls leads a program called Full STEM, Full Year. Past camp participants are also invited to attend additional sessions held in local schools, where they will get to work with Nexus Controls volunteers, learn more about STEM and try more hands-on activities. All girls who have attended camp are also invited back to the Mines campus each year for Alumni Day, where the girls get to participate in a full day of camp, tailored to their age.
For more information about Full STEM Ahead, visit the camp website.