Griffin Hampton: "As an undergraduate research student, I have been empowered and am engaging in research that will have far-reaching effects."
Centennial, Colorado
Biochemistry and Applied and Computational Mathematics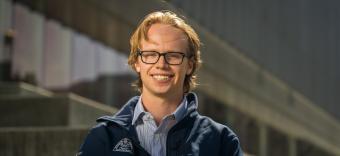 Why did you choose to come to Mines? What have you enjoyed most about being here?
I am from Colorado and knew of Mines as the premier institution in Colorado. I love this state and am honored to be part of the most respected institution in Colorado. The people who congregate at Mines are gritty individuals that want to make a mark on the world around them. They want to have fun, connect with the people around them and get to business. This drive was really appealing to me.
When I speak to people in Colorado or even beyond Colorado and tell them I am from Mines, I take some pride in the wide-eyed and "woah,  that's a tough school," that follows. The biggest joy I will be taking from Mines is the resourceful and talented people that have become my friends at Mines.
Tell us about something you're working on right now that you find exciting, fulfilling or challenging.
I am currently trying to model the dynamics of fat metabolism using a system of differential equations as part of research in the mathematics department under the guidance of Dr. Cecilia Diniz Behn and her collaborator at the University of Colorado Anschutz School of Medicine, Dr. Melanie Cree-Green. I feel like I have been given incredible autonomy to take on hard research problems at Mines. As an undergraduate research student, I have been empowered and am engaging in research that will have far-reaching effects. I recently submitted a paper as the first author and am incredibly proud to have done this on top of my undergraduate studies.
Have you done an internship or co-op or been in a professional job while at Mines? Tell us who you worked for and what you were doing. What stands out?
I have had multiple research internships through Mines. My first research internship was in a regenerative zebrafish laboratory at the University of Colorado Anschutz Medical Campus with Dr. Kristin Bruk Artinger. My next research internship was working online to model glycerol dynamics with the pediatric endocrinology department at the CU Anschutz with Dr. Melanie Cree-Green. I have continued this pediatric endocrinology research with Dr. Cree-Green and been involved in the experimental side, shadowing the procedures involved in this department. The greatest thing about these opportunities is that I was introduced to these opportunities through connections at Mines. I have been connected to stellar research opportunities beyond Mines because of my peers and faculty mentors connecting me to these opportunities.
What communities, groups or organizations—on- and off-campus—are important to you and why?
I am part of the Ballroom Dance Club. This organization has connected me to my main friends at Mines and has taught me how to do something that is essentially one of my main passions. I am using lindy hop that I learned from the Ballroom Dance Club for the focus of my Practicum in the McBride Honors Program.
I also really value the McBride Honors Program. The unique course offerings and discussion-based nature of McBride classes have been a lot of fun and a very enriching experience. I feel like my life is brighter since I have studied comedy, Irish literature, espionage and the history of scientific discovery. Where else could I explore such disparate concepts within a single program? I think you would be hard-pressed to find something similar.
What are your plans for the future? What's your dream job?
For the next two years, I will be working at the National Institute on Aging as a post-bac where I will be researching magnetic resonance imaging and relaxometry methods with a primary interest in the brain. This is a super exciting step towards my dream job! I ultimately want to be a research doctor where I am studying biomedical research problems that apply to metabolic pathways.
What would you tell someone interested in joining your academic program or Mines in general?
The professors and students at Mines give you incredible opportunities to explore and rise above academic challenges. The support and dedication that students and professors show to ensure success in projects is very impressive.
What's your favorite thing to do outside of class and coursework? How do you unwind, manage stress, find fulfillment, etc.?
I love to go dance lindy hop. I am a member of the ballroom club at Mines and compete on the Sliderulers Lindy hop team. I got my start into dancing through the Mines Slideruler team in the ballroom club. To destress, I frequent the Mercury Cafe in Denver where I typically dance for three hours. I love the creativity and communication that happens through the relationship established during a dance.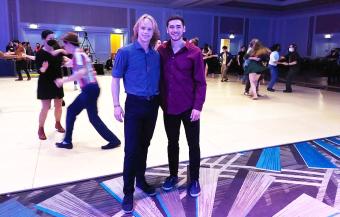 What's your favorite memory from Mines?
I have lots of great memories at Mines but this one stands out as my favorite Mines memory since it is close to the traditions of Mines. As part of Blue Key, I got to be part of the crew that led new first years up to the M at the beginning of this school year. I was having a lot of fun leading the fight song and talking to the bright-eyed first years. The energy during this event is a ton of fun and always makes me smile. Halfway up to the M, we ran into the ballroom dance club. They were playing swing music and I was able to dance a little with the club before I kept on leading my group of first years up to the M. The ballroom dance club did something similar my freshman year and it got me really excited to be a part of the Mines community. I was really happy to take on this role in one of the great traditions at Mines.
Tell us something about you that most people would be surprised to learn?
I do research on algae with the guidance of Dr. Matthew Posewitz in the chemistry department at Mines and part of my research includes shooting the algae with gold nanoparticle bullets to deliver a DNA payload.