Joel Been: "I have thoroughly enjoyed engaging with others through these opportunities, such as teaching and undergraduate research."
Centennial, CO
Physics Student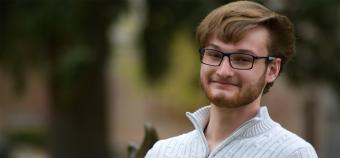 Why did you choose to come to Mines? What have you enjoyed most about being here?
I originally came to Mines thinking that I would be an engineer, specifically in chemical engineering with a biological focus. However, I soon found physics and mathematics more interesting. Mines provides lots of opportunities, especially for undergraduates. I have thoroughly enjoyed engaging with others through these opportunities, such as teaching and undergraduate research.
Tell us about something you're working on right now that you find exciting, fulfilling or challenging?
I have been on a research project with Dr. Lincoln Carr from our physics department for almost two years now where we focus on developing a rigorous theoretical description of fractional quantum mechanics. This is really a mathematical framework, the construction of which is my role in the process, that we hope will allow a better understanding of quantum effects in complicated, multi-scale materials (that would be used in applications like quantum computing). From this theoretical understanding, we hope to allow engineers and scientists to inform material construction by selecting specific properties that are beneficial in specific applications.
Have you done an internship or co-op or been in a professional job while at Mines? Tell us who you worked for and what you were doing. What stands out?
Yes, during the summer of 2020 I had the opportunity to be a part of NASA's SARP (Student Airborn Research Program) where we did data-driven environment science. We were supposed to do a mixture of flight-based data collection, specifically collection of electromagnetic spectra using NASA platforms like AVRIS, and analysis of this information to answer specific questions about human interaction with the environment. However, due to the COVID-19 pandemic, we were not able to fly and instead sat on our computers at home working on our projects. My project was focused on understanding the effect of drought conditions on shallow groundwater and the effect of this on the health of the environment in southern California.
What are your plans for the future? What's your dream job?
I am planning on getting an applied mathematics masters here at Mines working in conjunction with CU boulder which I will start working on this summer. I will be working with Dr. Mark Ablowitz and Dr. Lincoln Carr to generalize the inverse scattering transformation to fractional calculus. The inverse scattering transformation is, arguably, one of the most important recent methods in applied mathematics that allows the exact solution of some nonlinear partial differential equations. This is important because these types of equations are notoriously difficult to solve but incredibly important as they describe processes like fluid dynamics and gravity. By generalizing this method to fractional calculus, we expect to understand highly nonlinear, multiscale phenomena such as diffusion through porous media.
After this, I plan to go to Europe for my doctoral study to engage with another scientific community and culture. This is all towards the goal of becoming a professor which uniquely combines my interests in research and teaching.
What would you tell someone interested in joining your academic program or Mines in general?
Mines is a student-oriented school that gives ample opportunity to engage with a hard-working community of quality individuals.
What's your favorite thing to do outside of class and coursework? How do you unwind, manage stress, find fulfillment, etc.?
I enjoy creating and performing music. I have a background in piano and choir and developed a passion for music theory and composition. I have written three pieces for mixtures of piano and choir in what could be called a modern classical style. It's a wonderful creative outlet from my work.