Kathleen Tomon: "I was a part of the McBride Honors Program which really pushed me to explore my creative side, not just my analytical side."
Ogden, Utah
Operations Research with Engineering, Master's Program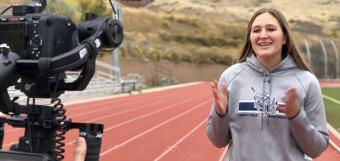 Why did you choose to come to Mines? What have you enjoyed most about being here?
I transferred to Mines in my freshman year between the fall and spring semesters. I originally looked at Mines and felt immediately at home, but my older sister went to Mines and I did not want to just follow her. Once I was at my other university, I knew that I wanted to go to Mines. I visited over Thanksgiving break and after meeting with other students and professors I knew that the community at Mines is unlike any other, so I transferred and it has been the best decision.
It might be cliche, but I have loved the people at Mines the most. I have been involved in a lot of different organizations throughout my time at Mines, and there are so many unique and interesting people. I love how every student accepts each other for who they are and welcome them into whatever community they are a part of with open arms.
Tell us about something you're working on right now that you find exciting, fulfilling or challenging.
I was a part of the McBride Honors Program which really pushed me to explore my creative side, not just my analytical side. Recently, I have been making stickers for my friends which is just really fulfilling because it just shows how multifaceted Mines students are. Most of my friends are artists or creative in some way, so it has been fun making their talents into stickers.
Have you done an internship or co-op or been in a professional job while at Mines? Tell us who you worked for and what you were doing. What stands out?
I have worked for Proctor and Gamble for the past two summers in Mehoopany, PA. I worked on an engineering project for Bounty Paper Towels. The people and the organization stood out. The teams that I worked with were amazing and it was such a fun time going to work every day to solve new problems with them. P&G as a whole has taught me so much with their systems for problem-solving and developing skills as a leader. The way that they want to develop you beyond just your engineering skills really stands out.
What communities, groups or organizations—on- and off-campus—are important to you and why?
Blue Key is an organization on campus that is really important to me. I was president of the organization last year and the people/activities are incredible. From the M designs to Blaster to volunteering and doing fun things together, I grew so much being a member of Blue Key and made amazing friends.
Mines Athletics is also important to be. I have been on the track team at Mines my entire academic career. When I first arrived on campus, they were my first friends helping me navigate Mines as a transfer student. Then my teammates and coaches supported me through school, other organizations and just life in general. Without the track team and the supportive athletic administrators, my experience at Mines would have been completely different.
What are your plans for the future? What's your dream job?
I plan on returning to P&G this summer for another internship before I complete my master's, so I guess that is my immediate future. 
It is so hard for me to just pick one dream job because I feel like I could have so many. I would love to work in the optimization field in the social justice region. There is a professor at Northeastern who optimizes resource distribution for human trafficking victims. I would love to do something with optimization that would allow me to make a broad impact. Or I would love to work in a high school as a math and science teacher.
What would you tell someone interested in joining your academic program or Mines in general?
Mines is going to be hard. Chemical engineering or operations research is going to be hard. There are going to be rough days where you doubt every decision you have made, but it is so worth it. The relationships that you will make with your classmates and professors, the memories with organizations, the times grinding in the computer lab and finally getting the problem you were struggling with will be worth it. You will grow so much as a person and find something that you are passionate about where your professors will find ways to support you and give you opportunities. When you are picking a program, pick what you are interested in and you will find it way more enjoyable to do the work.
What's your favorite thing to do outside of class and coursework? How do you unwind, manage stress, find fulfillment, etc.?
I am on the Mines track and field team where I throw shot put. It is my favorite thing to do outside of classes. My coach and teammates are just such a breath of fresh air from the busyness of school and so it is a great way to unwind. 
I also will go on walks by Clear Creek and listen to a podcast when the weather is nice.
Tell us something about you that most people would be surprised to learn.
I played a lot of sports growing up, but my main sport was swimming until I was a freshman in high school and found track and field.