A smile sets in on Dr. Ramona Graves' face as she gazes through the soaring panels of glass in the nearly finished lobby of Marquez Hall, the smell of fresh paint permeating as an electric saw whines from a distant hallway.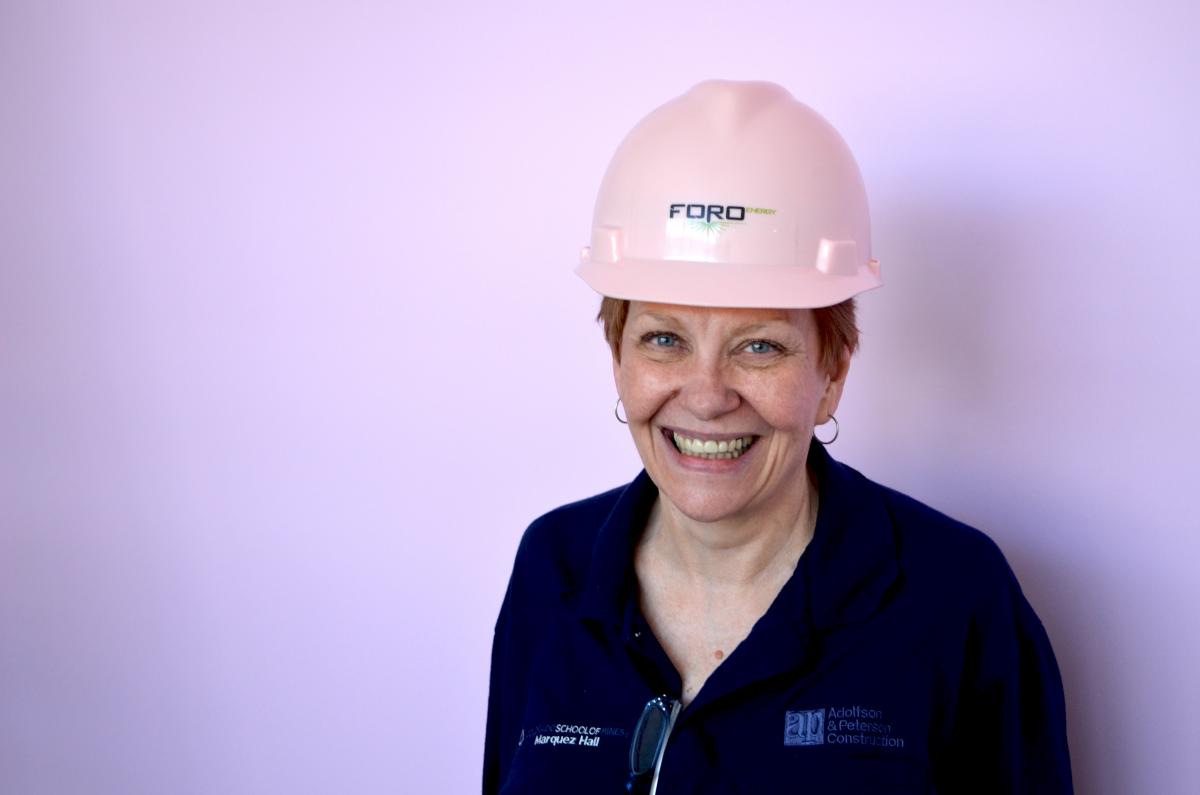 "It just feels special," she says.
Soon this lobby will bustle with returning students as the future home of the Petroleum Engineering Department at Colorado School of Mines opens its doors for the fall 2012 semester.
It is an impressive, modern facility. German terra cotta panels run its perimeter before slipping through sheets of glass and continuing inside, seeming to connect the outdoors with the indoors. Sunlight enters classrooms from windows that capture the surrounding geology of Golden. Black Italian tile embellishes the restrooms. Enormous glass walls suspended from a wing-like steel vestibule encase the lobby.
"It's something all of our alumni and donors should take great pride in," said Graves, who heads the Petroleum Engineering Department at Mines. "Our department has always been one of the best. To have one of the most state-of-the-art buildings is only fitting."
The high level of finish in Marquez Hall (pronounced "Marcus") is a testament to the generosity of the Mines community. After an historic $10 million challenge grant from Tim '80 and Bernadette Marquez in 2005, nearly 200 alumni, friends and corporate partners donated to the project. In addition to housing the Petroleum Engineering Department, Marquez Hall boasts 23,600 square feet of much-needed classroom space for use by the entire campus. Student fees helped to make this valuable addition to the building possible.
"The alumni are appreciative of the education they got out here. Their companies love our graduates, they hire them," said Graves. "Because of this we've been able to do some really great things."
With new state-of-the-art facilities, Graves said the department can continue that trajectory of success.
One of those facilities is the 3D visualization lab, a large room with theater style seating where students wear 3D glasses and can virtually fly through petroleum reservoirs.
"Petroleum engineers work one mile, five miles, maybe even ten miles into the ground. We can't see where we work," said Graves. "When students can actually plan a well, step back and see where it's actually going to go, see how it's actually going to intersect the geology, that's huge."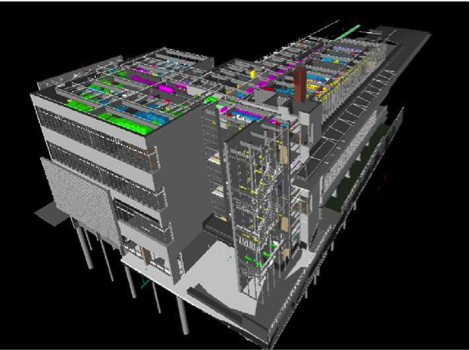 Roughly 64,000 square feet of computer classrooms, laboratories, research centers, and informal gathering areas were designed with students in mind. Water bottle filling stations dot the hallways. Desks feature multiple plug-ins. Study areas have large tables and frosted glass that can be written on with dry erase markers. 
"We're recognizing that the informal study space is actually very valuable space," said Mike Bowker, associate director of Mines Capital Planning and Construction.
Marquez Hall is also a model of efficiency, attaining a LEED Silver certification. Typically laboratories waste massive amounts of energy in air handling. However, the designers engineered ventilation with heat recovery coils to return heat from outflowing air in the winter. Air changeover is raised and lowered by a smart system that senses contaminants — if a chemical is spilled in a lab the building automatically starts replacing the air in the room.
While this is the Petroleum Engineering Department's home, the entire campus can make use of Marquez Hall. A southeast wing boasts 23,000 square feet of much-needed classroom space. Outside, a courtyard connects Marquez Hall with the Center for Technology and Learning Media (known as CTLM), which is expected to become a central hub for campus.
"This is going to be just tremendously active. You're going to have about a thousand students — that's almost a quarter of the campus — coming through here every hour. So, we spent a lot of time developing this," said Bowker.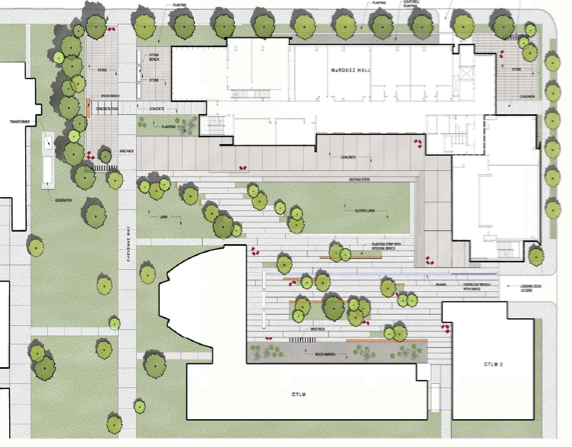 As visitors step in to the west lobby, they immediately start to learn about petroleum engineering.
"Because what we do as petroleum engineers is generally misunderstood, a lot of our galleries and lobbies are designed to educate," said Graves.
With that aim, students helped design a 16-foot model of an oil reservoir constructed of three curved pieces of glass (in the shape of the Mines triangle). Inside is actual petroleum mixed with water, demonstrating the flow of oil through rock.
"According to the glass manufacturer, it will be the tallest curved glass structure in the world," said Bowker.
The gallery features an enormous cross-section image of the earth beneath Golden highlighting the geology as described by Dr. Bob Weimer, Professor Emeritus of Geology. Panels detail the petroleum industry as a whole, from exploration to geology to refining.
Construction is nearing completion and Marquez Hall will be open for classes beginning Aug. 21. A formal grand opening ceremony is scheduled for Sept. 28 at 4 p.m. in Jalili Plaza outside the west entrance. A public reception with light refreshments and tours follow from 4:50 to 6 p.m.
Graves couldn't be more excited.
"I can't imagine the students coming back to this after having left Alderson Hall. I'm getting goose bumps talking about it," said Graves.
Click here for a list of major donors to the Marquez Hall building project.