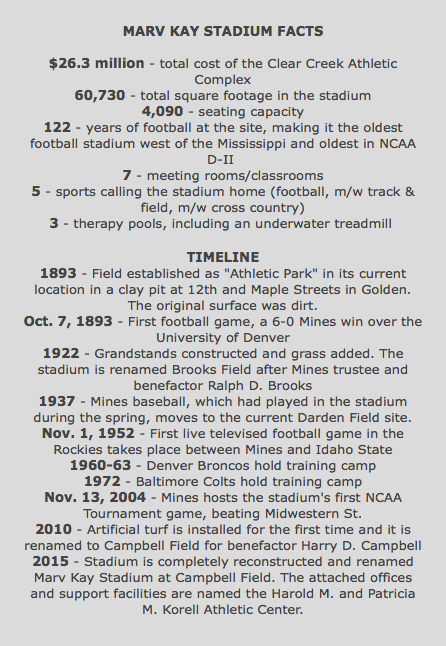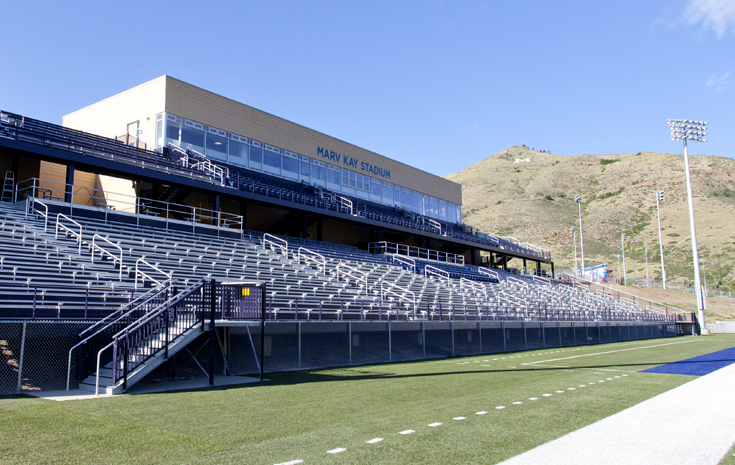 GOLDEN, Colo., Aug. 12 — Colorado School of Mines has long held the distinction of playing in one of America's most historic football stadiums. Now, they'll enjoy playing in one of America's best.
The 2015 season marks the debut of Marv Kay Stadium at Campbell 
Field, a state-of-the-art home for Oredigger football that completely rebuilds the West's oldest football stadium. Named in honor of long-time coach and administrator Marv Kay, who has spent nearly 60 years in Golden, the stadium and its support facilities put Mines Athletics at the forefront of NCAA Division II.
Finishing touches and move-ins are happening at the stadium ahead of Mines football reporting to camp Aug. 12. The team will hold its first practice Aug. 13, and the stadium officially opens with tours and the ribbon cutting on Sept. 4 and the first game Sept. 5 against South Dakota Mines.
As the centerpiece of the Clear Creek Athletic Complex, the newly-christened Marv Kay Stadium at Campbell Field will be about more than just football.
Within the portion of the facility called the Harold M. and Patricia M. Korell Athletic Center are expansive new spaces for sports medicine, equipment, and strength and conditioning; locker rooms for the track & field and cross country programs; and an entire second level dedicated to office, meeting, and classroom space. The visitor's building between the field and Clear Creek will also be used for visiting teams at the complex's other fields. All told, the stadium gives Mines more than 60,000 square feet of multi-use space - a far cry from the singular purpose served by Campbell Field.
Contact:
Tim Flynn, Assistant Athletic Director for Communications | 303-273- 3095 | flynn@mines.edu
Karen Gilbert, Director of Public Relations | 303-273-3541 | kgilbert@mines.edu