Maxwell Silver: "GSG allows me to give back to the grad student community."
Puyallup, Washington
Hydrologic Science & Engineering Student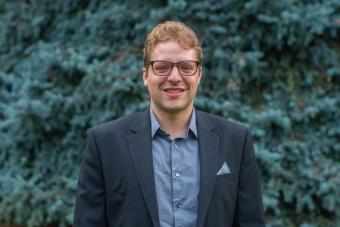 Why did you choose to come to Mines? What have you enjoyed most about being here?
I chose to come to Mines because of its reputation as a leader in geologic sciences. I have enjoyed the professional but unassuming attitudes of the Mines faculty and students.
Tell us about something you're working on right now that you find exciting, fulfilling or challenging.
I am excited and challenged by our experiments replicating submarine landslides in a laboratory setting.
What communities, groups or organizations—on- and off-campus—are important to you and why?
The communities important to me are the Graduate Student Government, the Hydrologic Science and Engineering Club and the Star Wars Legion Colorado: 5280 Legion. GSG is important to me as an opportunity to support graduate students on campus, to give back to the Mines community and to connect with and feel apart of the Mines graduate student community. The Hydrologic Science and Engineering Club is important as a networking opportunity and as a source of community. The 5280 legion and the gaming involved is important as a source of decompression and camaraderie.
What are your plans for the future? What's your dream job?
My plans for the future are to combine my hydrology Ph.D. with industry, academia and politics.
What would you tell someone interested in joining your academic program or Mines in general?
Our program is challenging but highly rewarding with an excellent community!
What's your favorite thing to do outside of class and coursework? How do you unwind, manage stress, find fulfillment, etc.?
My favorite thing to do to unwind is to build and paint models, which are then used to play games with other people who have also built and painted models. This can be referred to as table-top gaming, miniature gaming, tabletop warfare, etc.
Tell us something about you that most people would be surprised to learn?
I have a passion for military history.