Mines alum aims to make higher education attainable for all
Kurtis Griess '08 MS '10 recently helped his alma mater write successful grant to launch its first federally-funded Upward Bound Math and Science Program with Jeffco Public Schools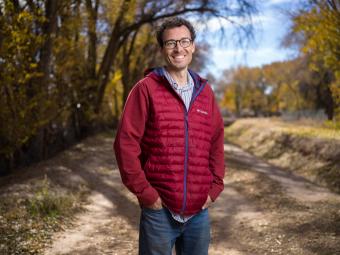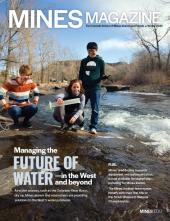 By Lori Ferguson, Special to Mines Magazine
Since graduating from Mines, Kurtis Griess '08, MS '10 has carved out an impressive career in educational enterprises: six years as the founder and director of Compassion by the Book,  a nonprofit he launched to cultivate a philanthropic mindset in college students; two years as a mathematics teacher with Denver Public Schools; six years as director of two federally funded Upward Bound Math and Science programs in Albuquerque, New Mexico; and now director of TRIO Student Support Services at State Fair Community College in Sedalia, Missouri. It's somewhat surprising, therefore, to learn he never envisioned a career in education.
"I had done private tutoring from high school all the way through college, and I loved it. I thought I might pursue education in retirement, but never imagined I would start my career in the field," he said. "I envisioned employing the problem solving and critical thinking skills I gained as a math major to a field of my choice." 
But during his master's program, Griess had a change of heart. "I felt pulled to service in nonprofits and education, so I went with it," he said. 
Griess never looked back. Indeed, over the years, his enthusiasm has only grown. As director of Compassion by the Book, Griess learned that you don't have to have millions of dollars to make an impact. And through his work with Upward Bound, he discovered the profound rewards of assisting underrepresented, low-income and first-generation high school students to complete their secondary education and then earn a college degree. "I loved seeing these students and helping them realize what they could become," he said. 
Through Upward Bound, students in need gain access to tutoring, one-on-one mentoring, college visits and cultural activities to increase their proficiency in math, laboratory science, composition, literature and foreign language, Griess explained. Given Mines' outstanding reputation in science, technology, engineering and math, bringing a program to the university seemed to him like a natural next step. 
"After writing my first successful Upward Bound Math and Science grant, I was convinced that Mines should have this program," Griess said. "I knew both the students and the university would benefit. Students can discover that careers in STEM fields are attainable, and Mines faculty can encourage greater diversity in higher education through interactions with students from diverse racial and socioeconomic backgrounds." 
Griess recently helped Mines write a winning grant to create a program between the university and Jeffco Public School's Alameda International Junior/Senior High School. It launches in spring 2023 and will enable two Mines employees to work on-site at Alameda with 60 students. 
"Everyone benefits," Griess said. "Mines faculty and staff will empower students who are underrepresented in higher education and in STEM, and students will serve as mentors and advocates for the next generation."
Now, in his new role as director of TRIO Student Support Services for a community college, Griess finds himself at the next level of the academic pipeline, providing leadership and oversight of services and activities for low-income and first-generation college students and students with disabilities to help them successfully complete their programs and transfer to four-year colleges and universities. 
"I'm not sure what the future holds. Working with students feeds my soul, but consulting and grant writing allow me to broaden my reach. I want to continue finding ways to serve," he said. "Mines gave me the ability to look at problems and find solutions, and that's the lens I apply to all issues. I'm not satisfied with anything less than my best."