Mines earns STARS Silver rating for campus-wide sustainability efforts
Comprehensive rating system addresses environmental, social and economic dimensions of sustainability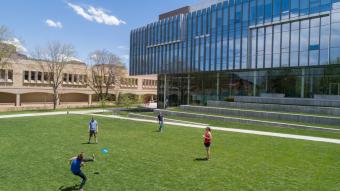 Colorado School of Mines has achieved a STARS Silver rating from the Association for the Advancement of Sustainability in Higher Education (AASHE).
STARS, the Sustainability Tracking, Assessment & Rating System, is a comprehensive sustainability rating system for colleges and universities that addresses the environmental, social and economic dimensions of sustainability. Institutions are assessed across four main categories: Academics, Engagement, Operations, and Planning & Administration.
"This is the first time that Colorado School of Mines has completed the STARS  evaluation for all categories, and we are proud to have achieved a silver rating," said Lauren Poole, sustainability manager at Mines. "Sustainability is at the heart of Mines' public mission and commitment to the earth, energy and environment, and this STARS rating only makes that commitment more visible to our entire campus community and beyond."
Among Mines' recent sustainability accomplishments:
Certification of two large student residence halls (1750 Jackson and Spruce Hall) as LEED Platinum by the U.S. Green Building Council
Establishment of a new graduate program in Humanitarian Engineering and Science to educate engineers to serve communities by collaboratively identifying problems and providing solutions that are just, socially responsible and sustainable
Implementation of powerED, a behavior-focused energy awareness and operational efficiency program designed to reduce costs, increase efficiency and promote environmentally friendly operations within campus facilities. The first three years of the program resulted in over 1,881,000 kWh of electric savings per year across campus.
Installation of two solar arrays on campus and completion of a solar feasibility study that led to a major new investment in solar that will quadruple the number of solar installations powering campus
Launch of a new Sustainable Environments Design Studio Capstone program for Mines undergraduate students to work on solar, electric vehicle and greenhouse engineering design projects
Expansion of composting and electric vehicle charging stations on campus
Completion of a successful pilot program to test 100 percent electric, self-driving shuttles on the hilly streets of campus and Golden
Recognition by the American Society of Engineering Education for diversity, inclusion, and access on campus
Launch of Sustainable Energy@Mines, a customizable scholars program for undergraduate students interested in careers in sustainable energy
Partnership with the U.S. Department of Energy National Renewable Energy Laboratory to launch the Advanced Energy Systems graduate program
Established in 2005, AASHE is the leading association for the advancement of sustainability in higher education. AASHE has more than 900 members across 48 U.S. states, 1 U.S. Territory, 9 Canadian provinces and 20 countries, with 650 colleges and universities currently STARS rated.