Mines hosts US Rep. Tipton for space resources act discussion
The Space Resources Institute Act, H.R. 1029 is being co-sponsored by Scott Tipton (CO-03) and Ed Perlmutter (CO-06)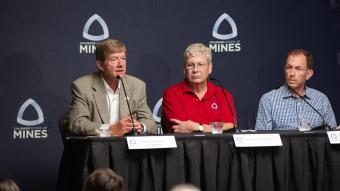 Colorado School of Mines welcomed U.S. Rep. Scott Tipton to campus Aug. 26 for a panel discussion on proposed legislation to support foundational science and technology research in the burgeoning field of space resources.
The Space Resources Institute Act, H.R. 1029, co-sponsored by Tipton (CO-03) and Rep. Ed Perlmutter (CO-06) and introduced in February, would direct NASA to study establishing an institute relating to space resources and report its findings back to Congress.
Tipton was joined on the panel by George Sowers, professor of space resources, and Morgan Bazilian, professor of public policy and director of the Payne Institute. Moderating the conversation was Angel Abbud-Madrid, director of the Space Resources Program and the Center for Space Resources at Mines. 
"The United States has dominated space exploration since the 1960s, and aeronautical innovation has been a bright spot in our nation's history. While academic institutions, the private sector and federal agencies engage in in-situ resource utilization research, all parties will benefit from a central institution where research can be shared, expanded upon and put into action," Tipton said. "Colorado has long served as a gateway for space exploration, and I am thankful to Colorado School of Mines and the Payne Institute for hosting such an important event in promoting space resources."
In addition to discussing the bill, the panelists also talked about legal and policy questions posed by the use of resources in space, sustainability issues and the potential for public and private investment in the field. 
"It was encouraging to hear Congressman Tipton talk about the strong bipartisan support for the Space Resources Institute Act from Colorado representatives and senators," Abbud-Madrid said. "It is clear that Colorado is uniquely positioned to house this institute. The state has the largest per capita workforce in aerospace, world-class academic institutions with unmatched expertise in space and the extractive industries, a robust commercial mining and oil and gas sector, and it hosts a number of government labs that will play an important role in the field of space resources, like the National Renewable Energy Laboratory and the U.S. Geological Survey."