Mines professor named Association for Women in Mathematics Fellow
Debra Carney is one of 13 fellows chosen by the Association for Women in Mathematics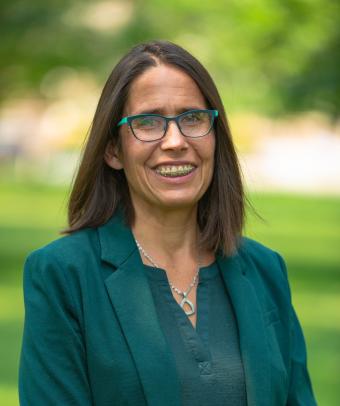 Debra Carney, teaching professor of applied mathematics and statistics at Colorado School of Mines, has been named by the Association for Women in Mathematics (AWM) to its 2022 Class of AWM Fellows.
The AWM Fellows Program recognizes individuals who have demonstrated a sustained commitment to the support and advancement of women in the mathematical sciences. Fellows epitomize the mission of the AWM, which is to promote equitable opportunities and support for women and girls in the mathematical sciences.
"We recognize these individuals for their exceptional dedication to increasing the success and visibility of women in mathematics," said Kathryn Leonard, AWM president.
Carney was honored "for her extraordinary support of women in the mathematical sciences through personal mentorship and leadership of her local AWM chapter; and for community outreach activities that have had lasting and positive impacts on the lives of women and girls ranging from high school students to faculty members."
Carney's professional focus is on the scholarship of teaching and learning. She holds a bachelor's degree from the University of Vermont and a PhD from the University of Maryland College Park.
Carney will be honored, along with the 12 other fellows, at the AWM reception on January 7, 2022.
AWM was founded in 1971 by a small but passionate group of women mathematicians. It has grown into the leading national society for women in the mathematical sciences and is one of the 16 societies comprising the Conference Board of the Mathematical Sciences. AWM's programs not only support those who participate in them directly, but also help influence the mathematics culture more generally, so that young women entering the field today encounter an environment that is more nurturing than that of the 1970s and 1980s.