Mines student team wins national design competition
Team designed lead, zinc mine that took first place in SME/PCMIA Student Design Competition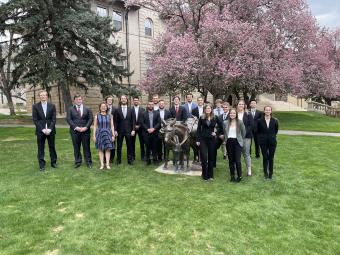 A group of recent Colorado School of Mines graduates recently received a nice post-graduation surprise: A project they'd worked on as students was entered in a design competition – and won.
The team, consisting of May 2021 Mines grads Obie Johnson, Riley Morris, Chloe Poindexter and Mat Taber, won first place in the SME/PCMIA Student Mine Design Competition for their project, "Itzall Mine Pre-Feasibility Study, Underground Lead and Zinc." The competition is held by the Pittsburgh Section of the Society for Mining, Metallurgy & Exploration (SME) and Pittsburgh Coal Mining Institute of America (PCMIA).
The project, which the team worked on for two semesters, centered around designing an underground lead and zinc mine on a theoretical site in Tennessee. They were given a Google Earth map with about 60 drill holes and an Excel sheet with data of the grades of lead and zinc in the drill holes, Morris said. From there, the team had to create the pre-feasibility study by considering all aspects of the area around the mine, like nearby population, water sources and geology in the area. Equipment, ventilation, rock stability and mineral processing needs – basically all aspects accounted for when creating a real mine – had to be taken into consideration while designing the fictitious mine, Morris said.
"We had to tap into a lot of different areas of technical engineering work, as well as the organizational and managerial situations that come up when you're working as a team," Morris said.
Sebnem Duzgun, professor of mining engineering, guided the team, as well as the teaching team of Jurgen Brune, professor of practice in mining engineering, and graduate student Natalia Soares Rodrigues. Duzgun cited the team's hard work and ability to persevere together during a difficult time as reasons they successfully creating a winning project.
"The teamwork was the result of each student's commitment, professionalism, ambition to explore and stamina," she said. "The rigor in their work was exemplary. Working with the team was an unforgettable experience. Their enthusiasm and fortitude were inspiring, especially during hard times of Covid-19."
With Duzgun's encouragement, the team submitted the completed project to the competition. But they didn't find out until September, long after graduation, that they had won.
The team members have gone their separate ways post-graduation: Poindexter works in Alaska, Taber moved to the Atlanta area, Johnson lives near Charlotte, North Carolina, and Morris is working in Colorado.  But the skills the team learned together while working on the mine design are carrying over into their professional careers.
"We really got to learn the importance of team dynamics in the greater scope of a project," Taber said. "Working together, four people can accomplish so much in such a short time span. It makes a world of difference having strong team members."
 
The award was presented at a ceremony in Pennsylvania in October, with Morris attending in person to accept on behalf of the team.