Mines student wins Out to Innovate scholarship
Lauren O'Sullivan recognized as "fierce advocate for trans and nonbinary representation and inclusion in historically male-dominant institutions and fields"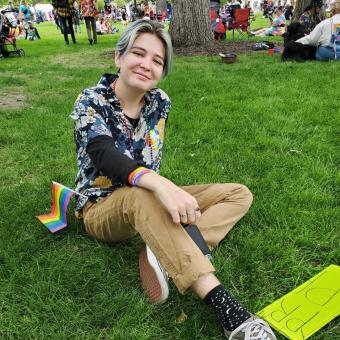 Lauren O'Sullivan, a junior majoring in environmental engineering at Colorado School of Mines, has been awarded a 2022 Berkshire Hathaway Energy (BHE) Foundation CARES Scholarship from Out to Innovate.
Established in 1980, Out to Innovate is a professional society that educates and advocates for LGBTQ people in STEM. Out to Innovate presents educational symposia and workshops nationwide and fosters dialog with other professional societies, academia, and industry to facilitate diversity and inclusion in the workplace.
O'Sullivan, one of 10 college students nationwide to win a $5,000 BHE Foundation CARES Scholarship, was recognized for being a "fierce advocate for trans and nonbinary representation and inclusion in historically male-dominant institutions and fields."
At Mines, O'Sullivan's involvement on campus has included serving as layout designer for Spectrum Spark, an LGBTQ+ literature and art journal, as well as being a member of three a capella groups, Melodic Miners (women's barbershop), Miner Dissonance (a mixed voice part group), and the Harmonic Miners (men's barbershop). O'Sullivan, who uses they/them pronouns, is also a member of the executive team of Green Team, a Vanguard Scholar and Environmental Scholar.
Inspired by the climate justice movement, they said they hope to continue working on environmental issues.
"I often feel that my identity is underrepresented in engineering, a field that is already difficult enough without the added struggles that come with being queer," O'Sullivan said. "I am so happy to see Out to Innovate advocating for and supporting students like myself in this endeavor and am so grateful to be awarded this scholarship."