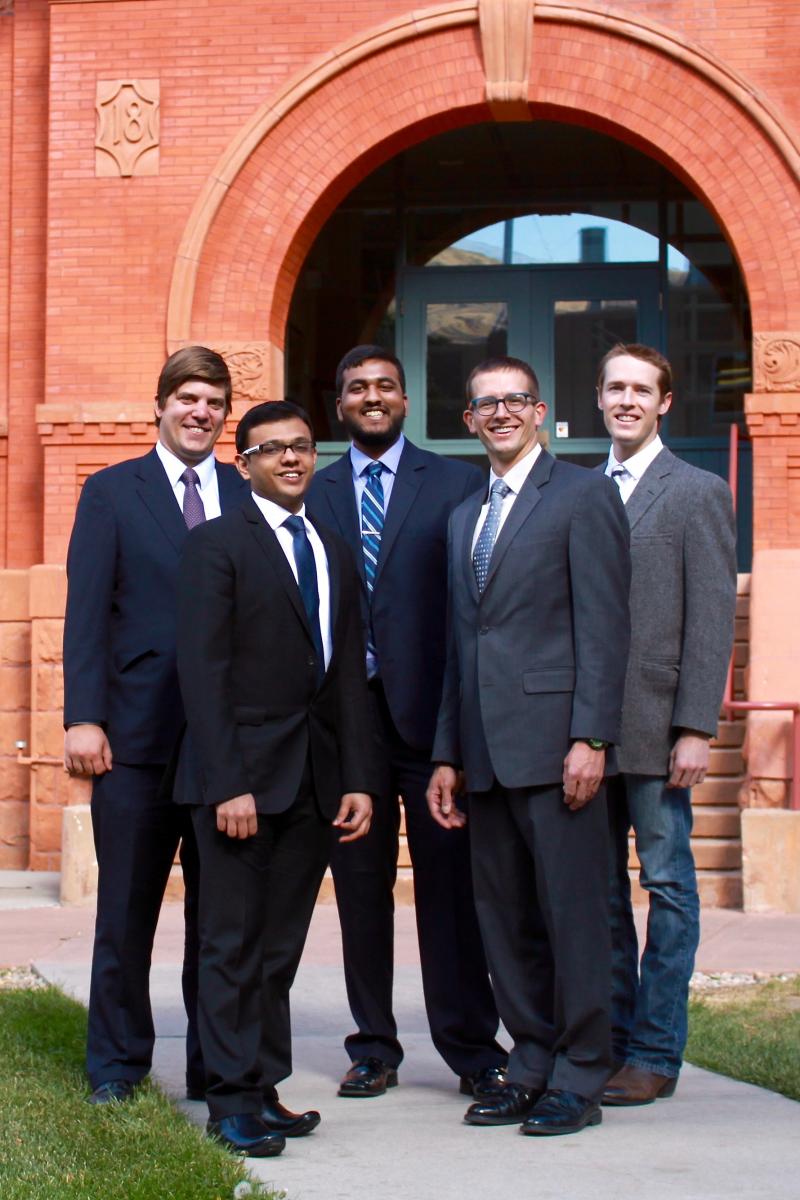 [Updated Nov. 2, 2016]
Mineral and Energy Economics MS students Bansidhar Bandi, James Crompton, Martin Kohn, Ashwin Ravichandran and David Rodziewicz finished in the top four at the "Energy in Emerging Markets Case Competition," Nov. 1 at Duke University's Fuqua School of Business as part of the university's "Energy Week."
They beat several Ivy League schools to make it to the final round where they competed against Johns Hopkins (first place), Washington University at St. Louis (second place), and Carnegie Mellon (third place).
The goal of the one-day competition is to connect students, academia and industry stakeholders and come up with creative solutions to address real energy challenges affecting the developing world. By encouraging this spirit of innovation, the competition identifies emerging future leaders of the energy industry. The 2016 challenge examined the changes taking place in Cuba's energy landscape. Teams presented their solutions to a panel of industry leaders and competed for $10,000 in prizes.
Approximately 30 submissions from schools worldwide were received. Of these 30 institutions, 12 were selected for the final round. The Mines MEE students were among an elite group – other schools competing in the finals included Columbia, Duke, Hong Kong University of Science and Technology, Cornell, UNC Chapel Hill - Kenan-Flagler Business School, University of Maryland, University of Pittsburgh - Joseph M. Katz Graduate School of Business, and Yale.
The students weren't the only ones representing Colorado School of Mines at Duke Energy Week. Mines alum Mauricio Gutierrez, '99 MS Mineral Economics and Chief Executive Officer at NRG in Princeton, NJ was one of the keynote speakers at the Duke University Energy Conference. 
Learn more about the competition and participants by visiting EnergyWeekatDuke.org.
About Mineral and Energy Economics at Mines
Founded in 1969, this world-renowned program in the Division of Economics Business leads to MS and PhD degrees in Mineral and Energy Economics. This program attracts students from all over the world, and Mines MEE alumni are known globally for their career achievements and qualifications. Students gain the skills necessary for understanding the complex interactions of markets and policy that influence the energy, mineral and environmental industries. The program focuses on applied quantitative tools and models that form a foundation for sound business and public policy. Learn more about Mines' Mineral and Energy Economics MS and PhD programs.
Photo: Mineral and Energy Economics MS students James Crompton, Ashwin Ravichandran, Bansidhar Bandi, David Rodziewicz and Martin Kohn finished in the top four at the "Energy in Emerging Markets Case Competition," Nov. 1 at Duke University's Fuqua School of Business as part of the university's "Energy Week."
CONTACT
Kelly Beard, Communication Specialist, Division of Economics and Business, Colorado School of Mines | 303-273-3452 | kbeard@mines.edu
Agata Bogucka, Communications Manager, College of Earth Resource Sciences and Engineering | 303-384-2657 | abogucka@mines.edu