Mines team claims repeat spot in programming world finals
The Mines team, ((+)(((+)s)m)j) — a computer science joke that combines their first initials — will travel to Portugal at the end of March for the 2019 ICPC World Finals.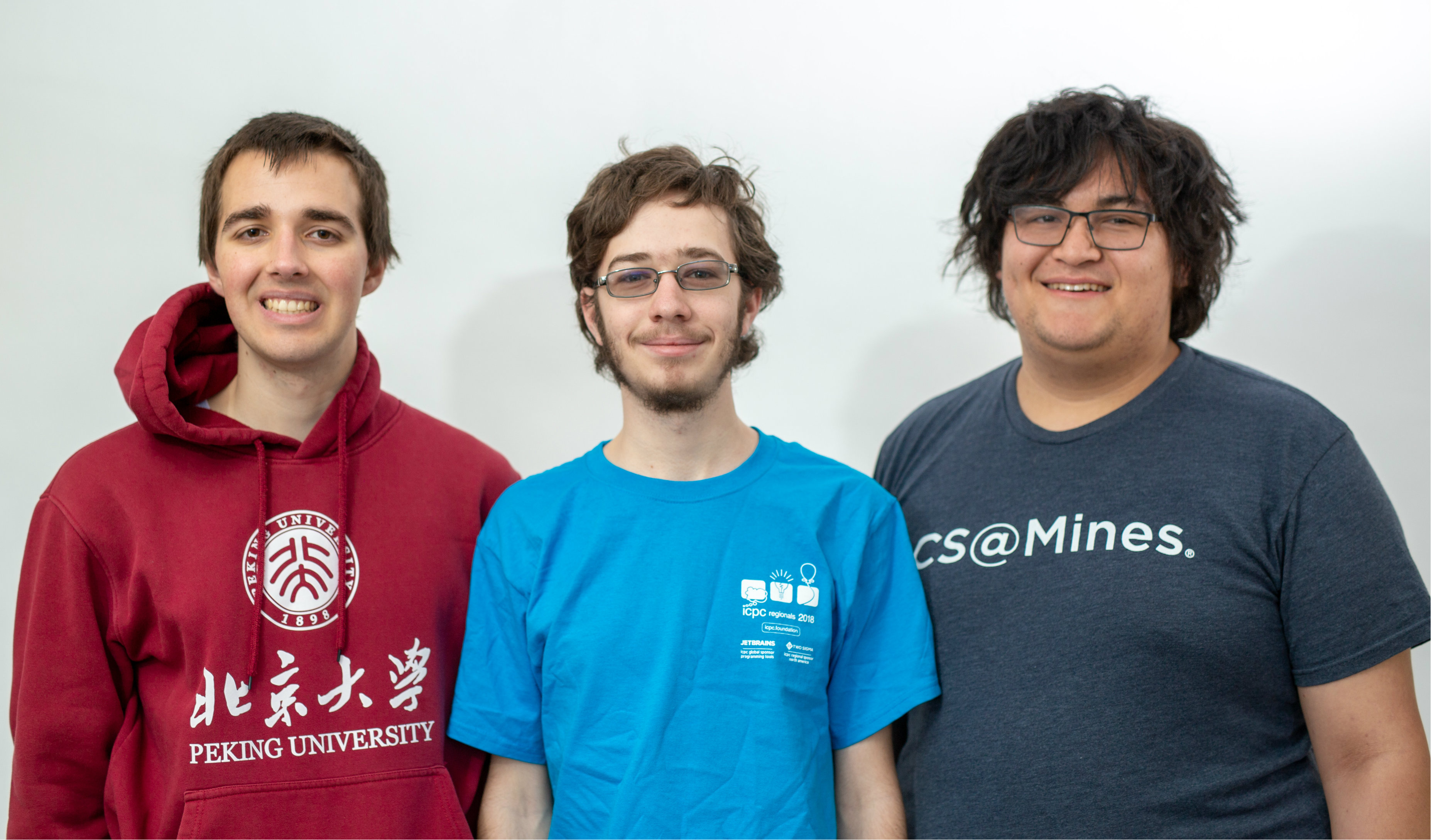 Last year, Matt Baldin and Sam Reinehr were happy just to qualify for the world finals of the ACM International Collegiate Programming Contest.
This year, the Mines seniors have much bigger plans.
"This year we're going to try to do well," Baldin said. "We want to be top 30 and I think that's achievable."
Baldin and Reinehr will have a chance to do just that, after winning the Rocky Mountain Regional for the second year in a row, with new teammate Joseph McKinsey. The trio solved all 10 problems at the Nov. 3 regionals, besting more than 60 other teams from Colorado, Utah, Montana, Arizona and two Canadian provinces to claim the region's lone spot at the most prestigious collegiate programming competition in the world. 
The Mines team, ((+)(((+)s)m)j) — a computer science joke that combines their first initials — will travel to Portugal at the end of March for the 2019 ICPC World Finals. There, they will have the chance to compete against the best collegiate programmers from Asia, Europe, Africa, North and South America and Australia.
"CS@Mines faculty and staff are ecstatic to see the growing and continued success of our students. This year we had a record number of 13 teams compete in the regional ICPC contest held at Colorado State University in Fort Collins," said Jeffrey Paone, assistant department head and teaching associate professor of computer science. "It is a huge accomplishment to win the Rocky Mountain Regional, especially two years in a row. We are excited to see the hard work and dedication of our students pay off – success certainly breeds success as we have seen student interest increase and we will be offering a competitive programming challenges course next semester."
Baldin and Reinehr have been preparing for this year's competition more or less since they arrived home from the 2018 Worlds in April.
After receiving honorable mention in Beijing — the "best of the worst," in their words — the two friends changed up their practice routine and started doing full five-hour mock competitions to better simulate the team experience at regionals and worlds.
"One of the things that hit us the hardest at world finals is we didn't know how to keep ourselves organized as a team. We ended up floundering around on a problem for pretty long," Reinehr said. "This time, we buckled down and ironed out our plans for teamwork and how to discuss problems together."
 They also attended a training boot camp in Barcelona, Spain, taking a two-week break from school to "live and breathe competitive coding," Reinehr said. 
"We learned a lot more techniques and we got our work flow more down pat in terms of switching back and forth between problems," he said. "We also learned how important it was to have a third person so the ones who aren't coding are able to discuss the problem with each other to try to work things out."
That's where McKinsey comes in. A sophomore majoring in applied mathematics and statistics, he joined Baldin and Reinehr on the team after getting to know the guys through the Putnam math club.
"I hadn't been to any events before, but I had done project-oriented programming and programming problems in high school. I've always been interested in that," McKinsey said.
"I wasn't unfamiliar with competitive programming, but," he added with a laugh, "I didn't know how deep the rabbit hole went."
For him, the appeal of competitive programming has been getting to flex his problem-solving skills on more practical problems than the more abstract world of Putnam. 
"It's nice – you have a problem and you're not sure how to solve it and you have this toolkit of everything you know. Sometimes you have just methods that you can apply to it and try to figure it out. Sometimes I won't be able to see it and then Matt will just come by and be like, 'Oh yeah, it's X.' I like that," McKinsey said.
At regionals, the trio led the field the entire time, solving nine of the algorithmic problems within the first three hours and then spending the next 90 minutes working out the 10th and final problem. In the competition, teams earn points for each problem they solve and for how quickly they come up with a correct answer. 
They ended up being the only team to correctly answer all 10 questions — and they did so on the first attempt for each and every question.
"We practiced so hard. I knew we had to qualify again for worlds — it was too amazing," Baldin said. "You can only go twice to worlds as a college student, so if we were able to go twice, that was the ideal. I just knew nothing was going to stop us from going back."
Baldin is graduating in December with his bachelor's degree in computer science. He'll stick around another semester, though, to finish his master's degree and said he hopes that McKinsey can help carry on the Mines legacy after both he and Reinehr move on.
"We wanted to chain the teams because we want to see Mines continue to succeed in this competition – we'd like to see Joseph carry the torch," he said.