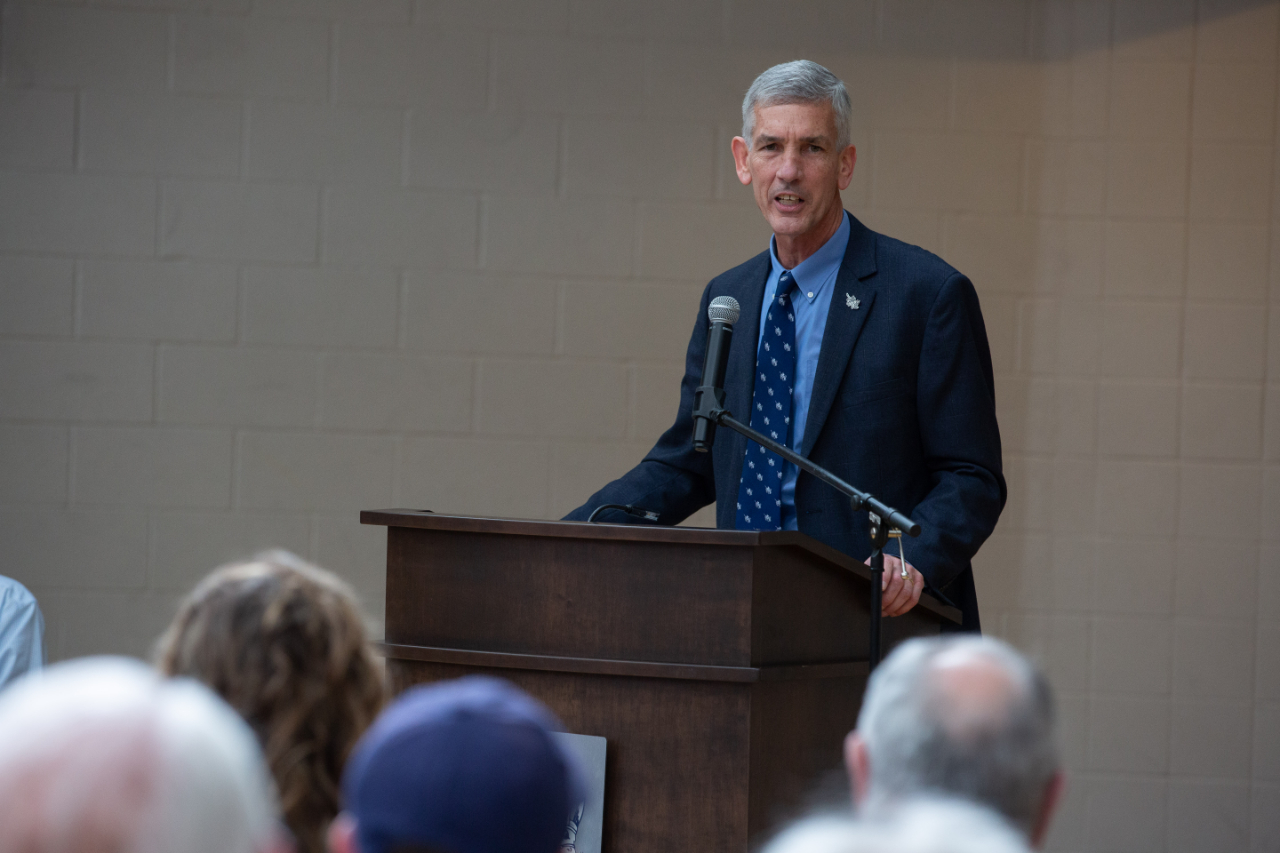 COLORADO SPRINGS – Colorado School of Mines President Paul C. Johnson has been named the Rocky Mountain Athletic Conference Executive Committee and Presidents' Council Chair.
 
Along with Johnson as the newly appointed chair, the 2019-20 RMAC Executive Committee includes President Randy Rhine (Chadron State), President Sam Minner (New Mexico Highlands), President Father John Fitzgibbons (Regis), and President Timothy Mottet (CSU-Pueblo). Dr. Johnson takes over the chairmanship from Colorado Mesa University President Tim Foster.
 
"Since his arrival, President Johnson has shown tremendous support of Mines student-athletes and has been highly involved in RMAC business. We appreciate his willingness to lead the RMAC for the next two years and look forward to working closely with him."
The Executive Committee is responsible for making interim decisions and instituting immediate actions in emergency situations which involve the best interests of the conference, active member institution, or a student-athlete. They also recommend to the Presidents' Council any legislation, eligibility rules, regulations, or policies, along with several other duties.
 
"I look forward to serving the RMAC as chairman of its executive committee," Johnson said. "It is a pleasure to work with other university and conference leaders who share a deep commitment to the Division II student-athlete philosophy and success of the RMAC as one of the nation's premier NCAA Division II conferences. We all benefit from a strong conference and the ways in which collegiate athletics provides a great platform at our universities for academic success and personal growth, as well as strengthening community and building university pride."
 
Johnson joined Colorado School of Mines in July 2015 as the institution's 17th president. Prior to joining Mines, Johnson was dean and professor in ASU's Fulton Schools of Engineering and a senior research engineer at Shell Development Company. A chemical engineer with degrees from the University of California-Davis and Princeton University, Johnson's professional activities have focused on the management and restoration of contaminated groundwater. Colorado School of Mines is world-renowned for producing highly sought-after scientists and engineers, innovations and objective analyses, especially in fields relevant to earth, energy and the environment. Athletically, Mines has produced four consecutive RMAC All-Sports Competition Cup victories, 33 RMAC team championships, and one NCAA Division II team national championship since Johnson became President. 
 
The RMAC is a premier NCAA Division II conference with 16-member schools, located in Colorado Springs, Colorado. The RMAC sponsors 22 varsity NCAA sports and has produced 62 NCAA Division II national champions and 51 national runners-up since 1992.
CONTACT
Tim Flynn, Assistant Athletic Director for Communications, Mines Athletics | 303-273-3095 | flynn@mines.edu
Emilie Rusch, Public Information Specialist, Communications and Marketing | 303-273-3361 | erusch@mines.edu