Rebecca Flintoft honored by NASPA for commitment to advancement of women in higher education, student affairs
Mines' associate vice president for student life recognized with the Zenobia Hikes Memorial Award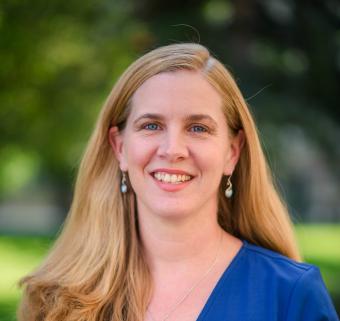 Rebecca Flintoft, associate vice president of student life at Colorado School of Mines, was recently honored by the National Association of Student Personnel Administrators (NASPA).
Flintoft is the winner of the 2022 Zenobia Hikes Memorial Award, which honors a NASPA member who has demonstrated a commitment to the advancement of women in higher education and student affairs. Flintoft was recognized at the 2022 NASPA Annual Conference in Baltimore, Maryland.
A member of the Mines community since 2007, Flintoft has served since 2017 as AVP of Student Life, where she oversees Campus Life and Student Success (CLASS), including the Dean of Students Office, Residence Life, Career Center, Student Outreach & Support, Ben Parker Student Center, Mines Dining, Mines Bookstore, Blastercard, CASA, Campus Events, Coulter Student Wellness Center, SAIL, Fraternity and Sorority Life, New Student Programs, Disability Support Services and the Multicultural Engineering Program.
As AVP, Flintoft also served as co-chair of the Every Oredigger initiative, a comprehensive campus-wide campaign to promote mental health, champion resiliency and preventsuicide at Mines. She was recognized in 2017 with the Mines Administrative Faculty Council Connected Learning Community Award for her work to launch EMPOWER, a support and networking group for women employees.
On a national level, Flintoft is currently the chair of the NASPA Center for Women board. She has also published and presented on various college violence and leadership topics, including editing and co-authoring the book "Violence Goes to College: The authoritative guide to prevention, intervention, and response (3rd ed.)" in 2018.                                                      
"Rebecca Flintoft embodies what it means to be a leader in higher education through her consistent demonstration of strength, empathy and open-mindedness in her work and interactions with others," said Wendy Winter-Searcy, director of the Mines Career Center. "Her impact on Colorado School of Mines is enormous, and the faculty, staff, and most significantly, students benefit from her many years of contributions."