Stephan Ngambi: "I chose Mines because I knew I would receive a world-class engineering education that would help me acquire the skills needed to create an enormous impact in the world we all share."
Yaounde, Cameroon
Environmental Engineering, Master's Program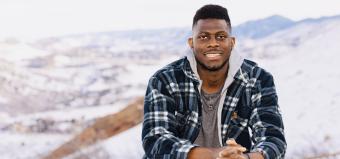 Why did you choose to come to Mines? What have you enjoyed most about being here?
I chose Mines because I knew I would receive a world-class engineering education that would help me acquire the skills needed to create an enormous impact in the world we all share. In addition, I really wanted to pursue academics in a geographical location I had never been in my life, and coming to Colorado was an opportunity to experience a different life experience. What I've really enjoyed at Mines is the dedication that students have in trying to become the best version of themselves. The teaching staff is also very passionate in assisting students to become leaders in their various prospective careers. In addition, Mines is a close campus community that values teamwork and this motivates students to work harder and communicate with their peers which is very essential in today's society.
Tell us about something you're working on right now that you find exciting, fulfilling or challenging?
As my college days are coming to a close at Mines, I am working on expanding my networks with students and industry. I find it exciting because I love immersing myself in different backgrounds and this prepares me for my next step after graduation. It has also been fulfilling to discuss with employers during Career Day and network with them afterward. This gives an idea of what employers in various industries value and expect in the workplace from their employees. Education is important but there are some things that are taught beyond the classroom, and I believe expanding my networks can provide me with more opportunities now and in the nearest future.
Have you done an internship or co-op or been in a professional job while at Mines? Tell us who you worked for and what you were doing. What stands out?
I haven't had the chance to intern during my time at Mines, but I had a chance to conduct academic fieldwork with my faculty advisor last summer with a few other graduate students as part of gaining research experience. We were conducting fieldwork in a few streams around Denver and Golden to evaluate how urban stream water quality had been adversely impacted by drought conditions. What stood out was working with a group of other students who had quite similar interests in working for the water industry, especially in tackling water pollution which is essential for our various communities.
What communities, groups or organizations—on and off-campus—are important to you and why?
The most important organization on campus for me has been the Mines African Student Union (MASU). This is because the association was the first association to embrace me into the campus community, especially at a time when most of my classes were remote and I didn't have a group of people I could interact or network with. For that reason, I decided to become more engaged with the association this academic year by becoming an executive board member of the association. I'm currently the Secretary-General of the Mines African Student Union and I try to welcome new students into the association the way the association embraced me when I came to Mines.
What are your plans for the future? What's your dream job?
My plan for the future is to serve the community in ways I can enhance change that is beneficial for all. I'm happy to announce that I recently accepted a tentative job offer at the United States Environmental Protection Agency in Ann Arbor, Michigan. I'm currently in the onboarding process and I'm glad of pursuing a career with the federal government right after graduation. However, my ultimate dream job is to use the skills and knowledge acquired at Mines and beyond to work at the United Nations such as the United Nations Environment Program (UNEP). I believe gaining years of experience with a career in the federal government will be very beneficial for me to gain eligibility for an international career. More importantly, I would love to return back home at some point in my career to help Cameroon and the African continent thrive. This will take time, but it is the responsibility of the current generation to work hard and let this happen and I want to be part of today's youths that can enhance positive change in the most vulnerable communities worldwide.
What would you tell someone interested in joining your academic program or Mines in general?
What I would say is that Mines has a rigorous curriculum and it's going to be demanding and often challenging. However, students enroll at Mines and excel due to perseverance. Hard work is going to be the key to making it through and I would highly recommend anyone considering Mines to establish a group of hardworking friends with whom they can study and interact with. It is also very important to create some time for fun while staying focused on your studies because this balance can increase productivity. In addition, always seek help when needed, a thing I noticed with Mines is that students and faculty are always willing to assist you in tough times. Just know that you will never be alone in this school facing challenges and that you have plenty of resources on campus that are available to resolve potential problems you may have. The Environmental Engineering program at Mines is a great program if you're interested in pursuing a career in water resources, climate change, bioremediation, environmental consulting and beyond. It is a broad degree program that can open the door to a variety of opportunities both in the public and private sectors.
What's your favorite thing to do outside of class and coursework? How do you unwind, manage stress, find fulfillment, etc.?
Outside of class, my favorite things to do is hanging out with friends and hiking around with them as well. To manage stress, I schedule monthly meetings at the counseling center to acquire more recommendations on how I can bring out the best I can academically. I also try to do physical exercise such as taking walks when convenient. Walking and resting provide me with a means of gaining the energy required to manage stress and ameliorate in school.
Tell us something about you that most people would be surprised to learn?
Most people may be surprised to learn that I spent the earliest years of my life in the United States. My parents immigrated here in the early 1990s and I was born in Texas a few years after they immigrated. However, my parents returned home to Cameroon at some point, and the family (including myself) emigrated with them. I left the United States for Cameroon as a young kid who was in elementary school. It's often less common to hear kids born here to African immigrants emigrate to the country at an early age. I may have been born in the United States, but I call Yaounde, Cameroon my hometown because I grew up there and my family is from there, and I returned here to attend graduate school at Mines. Therefore, it can be fair to say that I grew up with a third culture kid experience. This came with some challenges such as language barriers and immersing myself in different cultures because Cameroon is a predominantly French-speaking country, and I couldn't speak French after emigrating from a country that speaks English. However, this adversity provided me with some skills growing up and I can fluently speak French today making me be a bilingual individual because of this experience. In addition, it also enabled me to appreciate the world around me better. I am quite optimistic that these are the same skills that will help me succeed with a career in public service and help me easily potentially land a job overseas in the nearest future. Growing up, I realize this is probably one of the most valuable experiences I've had in my lifetime.