These miniature Death Stars could improve the future of lunar exploration
A Colorado School of Mines graduate student is developing a new lunar payload that could be deployed to otherwise inaccessible areas of the Moon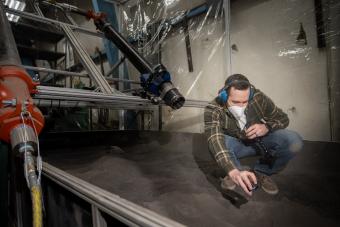 When Josh Ehrlich was 10 years old, he dreamed of becoming an astronaut when he grew up. Now, as a PhD student at Mines, his hopes of going to space are being realized – in a way.
As part of the Space Resources Graduate Program, Ehrlich is working on a payload that could be deployed to otherwise inaccessible areas of the Moon to gather information and send that data back. The Deployed Untethered Swarm Trackers and Expendable Explorers – or DUSTEE – are able to do things other space exploration vehicles cannot.
"These spheres can reach certain locations we normally can't get to and get a better sense of what's really out there," Ehrlich said.
The concept for DUSTEE started before Ehrlich began his PhD at Mines. In addition to graduate school, he works as a systems engineer at Lockheed Martin in Littleton.
The idea of exploring unreachable areas of the Moon was an intriguing one to Ehrlich. Building on his knowledge of CubeSats (nanosatellites deployed as auxiliary payloads), he realized that the standardization of payloads could be a way to efficiently deliver different kinds of measuring equipment to map the lunar surface. Standardizing the process, like NASA currently does with CubeSats, can make it easier for diverse teams to work on missions together, he said.
"DUSTEE is basically just a way to access the surfacing and get those instruments and sensors to the Moon for folks to conduct their data-collection missions," Ehrlich said. "We'll be able to transmit and eventually analyze information about the surface and eventually the subterranean layers as well."
About the size of a grapefruit, DUSTEE resembles miniature Death Stars from Star Wars. Designed to be deployed in flight from different surface landing hosts, DUSTEE is capable of surviving high-velocity impacts on different areas of the Moon. Even though Ehrlich can hold one DUSTEE in his hand, it is still able to store a variety of scientific instruments, from cameras to seismometers.
But what makes DUSTEE different from existing payloads being used in space research? Ehrlich said DUSTEE would be deployed as a swarm, where the payloads are distributed over an expansive region. The spheres will "talk" to each other and share information, which would then be sent back to a local location at the Moon. Ideally, this means more data can be collected and shared, as well support numerous customers, all within a single mission.
Ehrlich pictures DUSTEE being deployed onto the Moon's surface not just from a CubeSat deployer, but also from deep space surface explorers like Perseverance, which is currently exploring the surface of Mars. Deployed this way, the DUSTEE spheres could better investigate the Moon's permanently shadowed regions, as well as craters, lava tubes and lava channels. Ehrlich said if space exploration is going to proceed, those locations need to be better understood, and their available resources studied.
"We're barely scratching the surface," Ehrlich said. "In order for humankind to advance further into space, not just from a scientific opportunity perspective, but also just physically getting further into the solar system, we'll have to rely on the resources out there at those various locations. We'll have to live off the land, so to speak."
Mines is the ideal place to conduct this type of research for several reasons, Ehrlich said. The Space Resources Program means Mines has the assets in place to test designs created for space exploration.
"We have so many resources here that really give us a leg up compared to the rest as far as ways to enhance our knowledge and improve our capabilities in space exploration and research," Ehrlich said. "The faculty, the facilities, the labs, and especially the students themselves, all make Mines a great place to test ideas."
Through his job at Lockheed Martin, Ehrlich is well positioned to act as a bridge between Mines' work in space resources and the industry resources that his employer offers, as well. The team working on DUSTEE is a collaboration consisting of Mines students as well as employees of Lockheed Martin.
"We need students who can bring all sorts of perspectives and knowledge. We need computer science students, mining engineering students, anyone who is interested in geological studies, students from every department at Mines," he said. "That kind of collaboration is what will make DUSTEE go from a concept being tested in a Mines lab to a payload actually deployed to the Moon."
Mines students interested in collaborating on this project should contact Ehrlich at jehrlich@mymail.mines.edu.