On March 10, 2017, more than 60 prospective graduate students participated in the Colorado School of Mines College of Applied Science and Engineering 2017 CASE Recruitment Day.
The prospective students came from all across the country to learn more about Mines, and spent the day visiting with faculty, touring the campus and visiting several other facilities, including the National Renewable Energy Lab, CoorsTek and the Federal Center.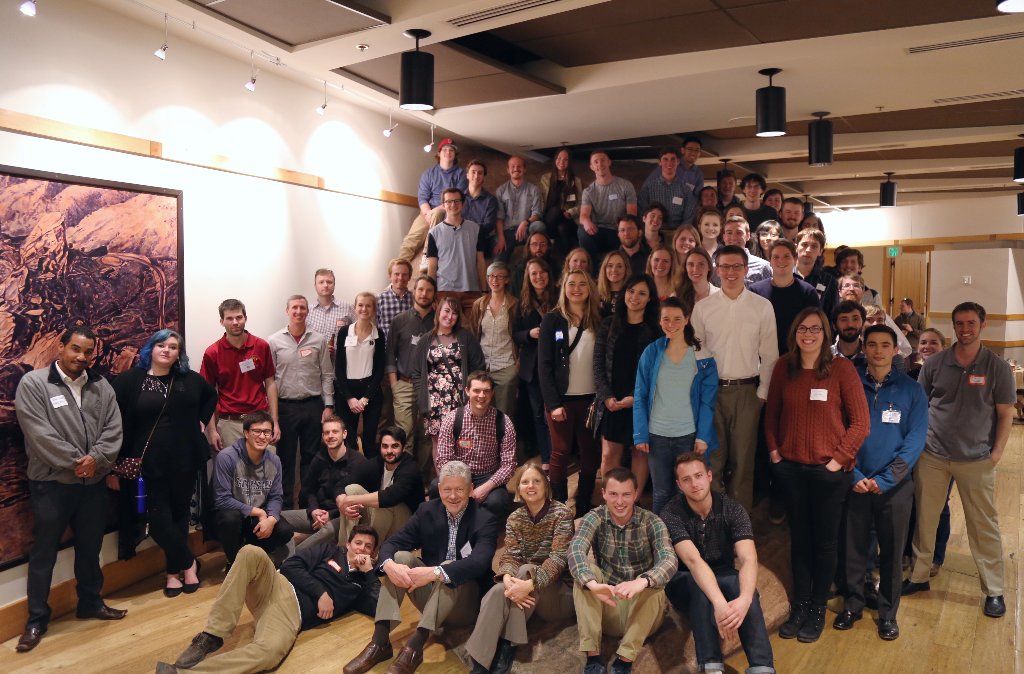 Prospective students pose for a photo with Mines faculty and staff.
That night, the prospective students attended a reception and dinner held at Red Rocks Park and Amphitheater, where they discussed research with current graduate students and faculty whose posters were on display. After dinner, Interim Dean of Graduate Studies Dr. Tina Voelker and CASE Dean Michael Kaufman both expressed their hopes that the prospective students would attend Mines.
"The quality of the students being recruited to Mines improves year after year," said Kaufman. "We are hopeful that the combination of exposing them to excellent faculty, great facilities and opportunities to work with local companies and laboratories will convince them that Mines is the best place for them to pursue their PhD degrees." 
"I love the environment here," said prospective student Laura Porath from the University of Chicago, who has been accepted into the
Materials Science Program
. After touring NREL, she expressed hopes for a joint appointment at the laboratory if she attends Mines.
"Today has been a lot of fun," said Marshall Pickarts, a prospective chemical engineering graduate student currently enrolled at Ohio State University. In addition to a campus tour, Pickarts also spoke with three faculty members during his visit to see who would be the best fit to mentor him during his research.
Following the Friday evening event, students were given the opportunity to enjoy all that the great state of Colorado has to offer throughout the weekend, with many heading to the ski slopes while others enjoyed a hike.
View more photos from the event in the slideshow below.
Contact:
Megan Hanson, Communications Manager, College of Applied Science and Engineering | 303-384-2358 |
mhanson@mines.edu
Agata Bogucka, Communications Manager, College of Earth Resource Sciences & Engineering | 303-384-2657 | 
abogucka@mines.edu