Craig Brice: "Mines has a far-reaching, rock-solid reputation in the professional world."
Ozark, Missouri
Professor of Practice, Mechanical Engineering
Director, Advanced Manufacturing Program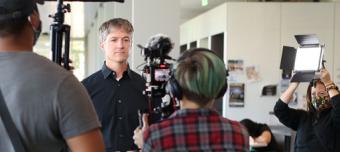 Why did you choose to come to Mines? What have you enjoyed most about being here?
My first interaction with Mines was as an industry researcher. I was working with Mines faculty to solve some problems I was working on for my employer. That interaction led to me being asked to teach a course as an adjunct professor in the evenings. I really enjoyed interacting with the students and faculty and while I had never considered a career path in academia, it seemed like maybe it was a good fit. My opportunity came in 2018 with the formation of the Advanced Manufacturing interdisciplinary graduate program - I was brought on board full time to lead that program and support research activities within ADAPT.
Tell us about something you're working on right now that you find exciting, fulfilling or challenging?
Along with many others, I am working on the "qualification" problem for additive manufacturing (or 3D printing). Just because you can make something doesn't mean you can statistically guarantee its performance in operation. Additive manufacturing involves a very complex set of inputs and we are working to understand how those interactions affect the outputs. Only once we can understand these relationships, can we have some assured confidence of performance. This is a challenging problem and I enjoy working on a team of Mines faculty and students to help solve it.
What communities, groups or organizations—on- and off-campus—are important to you and why?
We have campus-wide strength across many departments in the area of materials and manufacturing. I enjoy interacting with faculty, staff and students working in this area. There are some incredibly talented people on campus (at all levels--from students to faculty) and I feel fortunate to be a part of it. I feel like I learn something new every day and I find that very rewarding.
What would you tell someone interested in joining your academic program or Mines in general?
Having worked for almost 20 years as a practicing engineer before coming to Mines, I can say that Mines has a far-reaching, rock-solid reputation in the professional world. Students can expect to be challenged and have to work hard. They can also expect outstanding job prospects when they make it through.
What's your favorite thing to do outside of class and coursework? How do you unwind, manage stress, find fulfillment, etc.?
Getting outside is my "reset" button. From working in my garden to backpacking in the mountains. Mines is fortunate to be in one of the most fantastic locations for outdoors enthusiasts. Any activity that gets me outside in the fresh air and mountain views helps me to unwind and relax.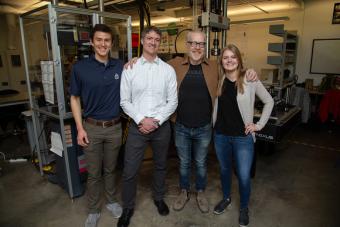 Tell us something about you that most people would be surprised to learn?
I turned down an art scholarship in high school and chose to study engineering instead. My analytical side won out over my creative side--or so I thought at the time. What I have learned throughout my career is that they are not mutually exclusive. Creativity is not just for the artist but is also important in science and engineering. There can be as much beauty in an elegantly solved engineering problem as there is in a painting hanging on the wall.