Fabian Jimenez: "There are so many hurdles that students have to overcome within their first year at Mines, but it will be so worth it."
Leadville, Colorado
Civil Engineering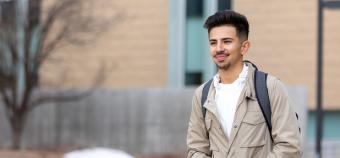 Why did you choose to come to Mines? What have you enjoyed most about being here?
As a Colorado native, I understood the reputation that Mines has when it comes to engineering. Despite also understanding the difficulty of the academics, I knew that I wanted to challenge myself. Being at Mines has definitely been challenging, but it is honestly the thing I have enjoyed the most. I have always had a passion for learning and attending Mines has allowed me to pursue that passion to the fullest extent. The challenging academics are a part of Mines that everyone experiences. This shared experience has brought me closer to other people that have the same passions as myself.
What communities, groups or organizations—on- and off-campus—are important to you and why?
Currently, one of the organizations that I am a part of is the Society of Hispanic Professional Engineers (SHPE). I joined SHPE within my first couple of months at Mines and it has allowed me to make friends that are also Latinos in STEM. Being a part of SHPE has also allowed me to develop my professional leadership skills. Whether it is workshops or listening to presentations from companies, SHPE offers a great learning experience.
I am also a part of a student-led organization known as Kickstart. Kickstart is a group of students that are pursuing their passion for activism and equality, while also aiming to discuss these topics with the larger Mines community. Discussions are hosted on a monthly basis, where everyone is invited to speak about their opinions in a civil manner. Our discussions often include the topics of race, culture, activism and more recently, mental health and social media. Bringing these topics to light is something I hope to continue doing for the rest of my life. I would love to be a part of a community that wants everyone to feel welcome, and I believe Kickstart allows me to do that.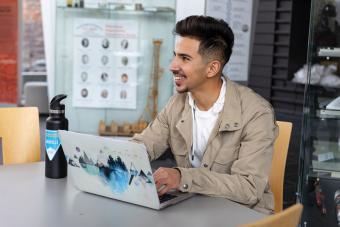 What would you tell someone interested in joining your academic program or Mines in general?
If I were to talk to someone that is interested in attending Mines, I would tell them to not be afraid. There are so many hurdles that students have to overcome within their first year at Mines, but it will be so worth it. The academics are difficult, but they are difficult for everyone. Pushing yourself out of your comfort zone will only make you a stronger and wiser person. You will find your group of friends at Mines and you will soon realize that you are strong enough and smart enough to make it through Mines.