Mechanical engineering PhD wins Fall 2019 Rath Research Award
Mines awarded a total of 74 doctoral and 199 master's degrees during Fall 2019 Graduate Commencement on Dec. 13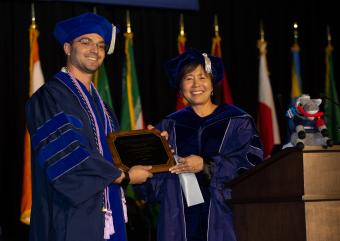 Peter Weddle, PhD in mechanical engineering, is the winner of the Fall 2019 Dr. Bhakta Rath and Sushama Rath Research Award.
The honor, which recognizes the Mines doctoral graduate whose thesis demonstrates the greatest potential for societal impact, was presented during the Fall 2019 Graduate Commencement ceremony on Dec. 13.
During the ceremony, Mines awarded a total of 74 doctoral and 199 master's degrees to December and August graduates.
Weddle's dissertation research focused on the design, modeling and control of advanced lithium-ion batteries. That includes the development and implementation of new physical models to provide quantitative predictions of battery performance using electrode chemistries based on lithium-iron-phosphate and lithium titanate. The phase-transformation electrodes present a number of advantages, including a very high life cycle and virtually no fire hazard.
"Peter's cutting-edge battery research is very well positioned to beneficially influence technologies ranging from consumer electronics to grid-scale energy storage," said Robert Kee, George R. Brown Distinguished Professor of Mechanical Engineering, who advised Weddle along with Electrical Engineering Professor Tyrone Vincent. "He has pioneered new frontiers in the quantitative understanding of phase-transformation electrodes in advanced lithium-ion batteries. He has gone on to incorporate that knowledge into the design of real-time optimal-control strategies."
Weddle was also the winner of the Emeritus Faculty Exemplary Graduate Award in Mechanical Engineering.
ADDITIONAL GRADUATE STUDENT AWARDS AND RECOGNITIONS
The Lohmiller Award for Outstanding TA is presented to teaching assistants in the Department of Metallurgical and Materials Engineering who, through teaching, tutoring and mentoring, have demonstrated a strong commitment to student success: Brian Kagay, PhD, Metallurgical and Materials Engineering
The Three-Minute Thesis Competition celebrates research conducted by thesis-based graduate students around the world. The competition cultivates students' academic, presentation and research communication skills and increases their capacity to effectively explain their research to a non-specialist audience: Lauren Anita Sepp, PhD, Mechanical Engineering