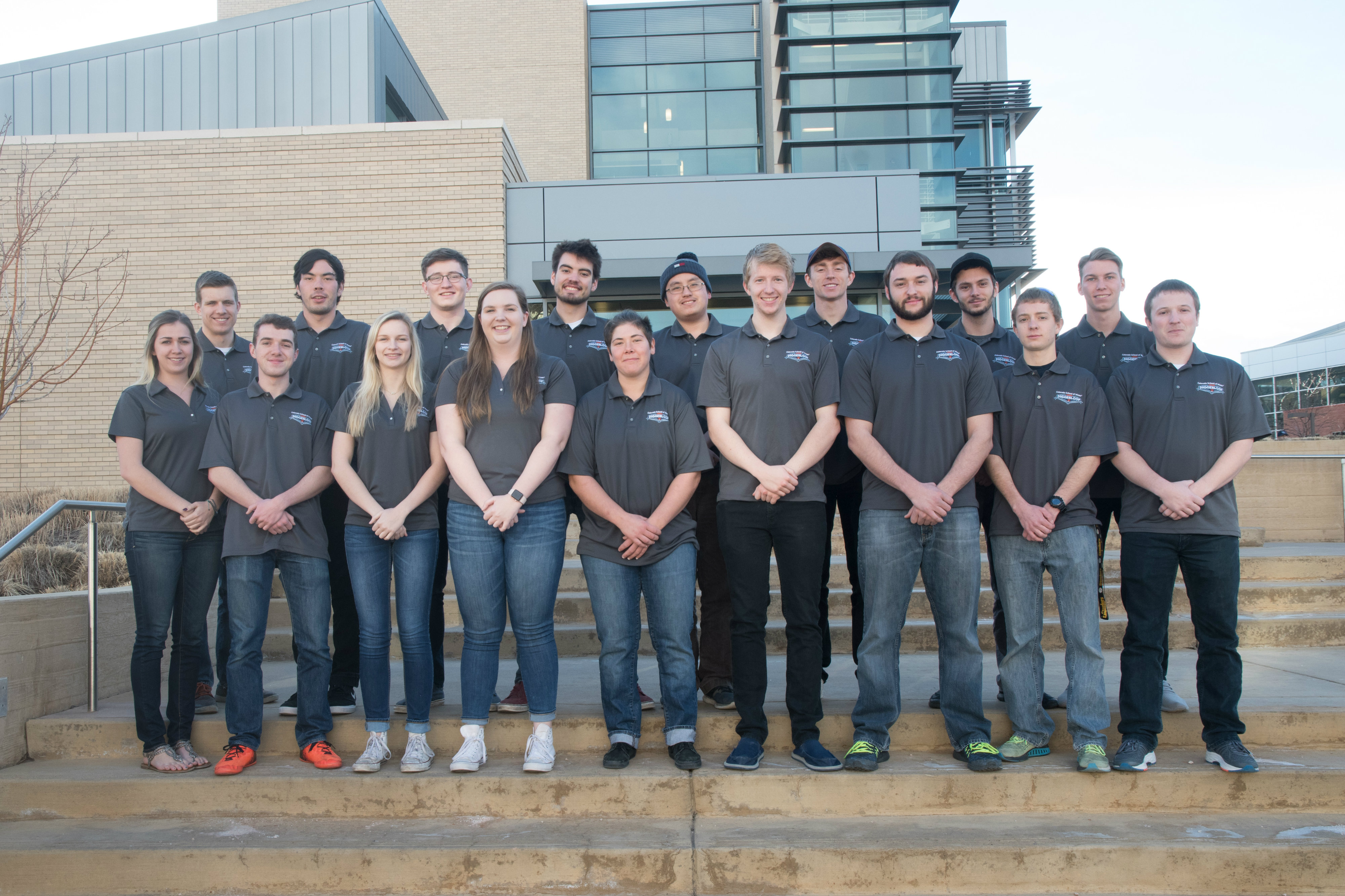 DiggerLoop is headed back to SpaceX. 
The Colorado School of Mines student team was one of just 20 worldwide chosen this month to advance to the finals of the main 2018 SpaceX Hyperloop Pod Competition, set to be held this summer at SpaceX headquarters in California.
It's the second year in a row that DiggerLoop has qualified for the international collegiate competition, which pits futuristic transport pod designs against one another based on a single criterion – maximum speed on the test track.
How fast does DiggerLoop hope to go this year? A blistering 300 miles per hour, said Tyler Evans, the team's lead project manager. 
"Hitting that button and go – seeing it move – that's what I'm excited to see," Evans said. 
Currently, the 20-plus electrical engineering, mechanical engineering and engineering physics undergraduate students that make up DiggerLoop are focused on refining their improved chassis design. The team should have a final pod and shell design completed by the end of February.
From there, the plan is to finish fabricating and assembling the pod by the end of the semester so they can complete full systems integrated testing over the summer – including a trip to Arizona after graduation in May to use the test track of fellow finalist AZLoop.
The team is also partnering with the National Renewable Energy Laboratory to test the pod's battery system, an area of concern for SpaceX engineers at last year's competition.
"We're already getting results," said Alexandra Joseph, the team's systems lead. "It's not just the batteries and the power system, either. We need to get everything tested so we can get through the safety checklist at SpaceX."
A major change from last year's competition is that all pods are now required to be self-propelled. 
"Since we already had a self-propelled pod last year, that has definitely given us a leg up," Evans said. 
Now, it's up to this year's team to build on that great groundwork and make the propulsion system even better, Joseph said. 
"All of the major components in terms of the propulsion system have remained the same – it's just how we're connecting everything that's different," Joseph said. "The overall idea – electric motor, drone batteries, drive wheel on the rail – all those things are things that the team last year was doing. We're taking that and looking at how we can improve upon it."
Fundraising will begin shortly to help cover the costs of fabrication and travel.
"We have four subsystem teams working together on technologies, many new to them, testing and learning to advance their knowledge as they design their pod. Team members already put in countless hours to submit a final design proposal to SpaceX in January. Now their efforts turn to fabrication and testing at a systems level," said Teaching Professor Kristy Csavina, the team's faculty advisor and assistant head of the Mechanical Engineering Department. "With Alexandra Joseph as systems lead and Tyler Evans as the lead project manager, along with the dedicated team members, I am confident we will be on the track this summer. We learned from our experiences last competition and are working to mitigate safety concerns through individual subsystem testing. This team is prepared to win."
CONTACT
Emilie Rusch, Public Information Specialist, Communications and Marketing | 303-273-3361 | erusch@mines.edu
Mark Ramirez, Managing Editor, Communications and Marketing | 303-273-3088 | ramirez@mines.edu