GOLDEN, Colo., Feb. 16, 2016 –Colorado School of Mines, in conjunction with the Jefferson County Public Schools Education Research and Design, received $211,787 from the National Science Foundation, in part to bring Jefferson High School (JHS) students to campus Feb. 10. Forty ninth-graders were accepted to the program, which required an application to participate. Students spent the day touring campus and participating in hands-on lab demonstrations focused on earth sciences.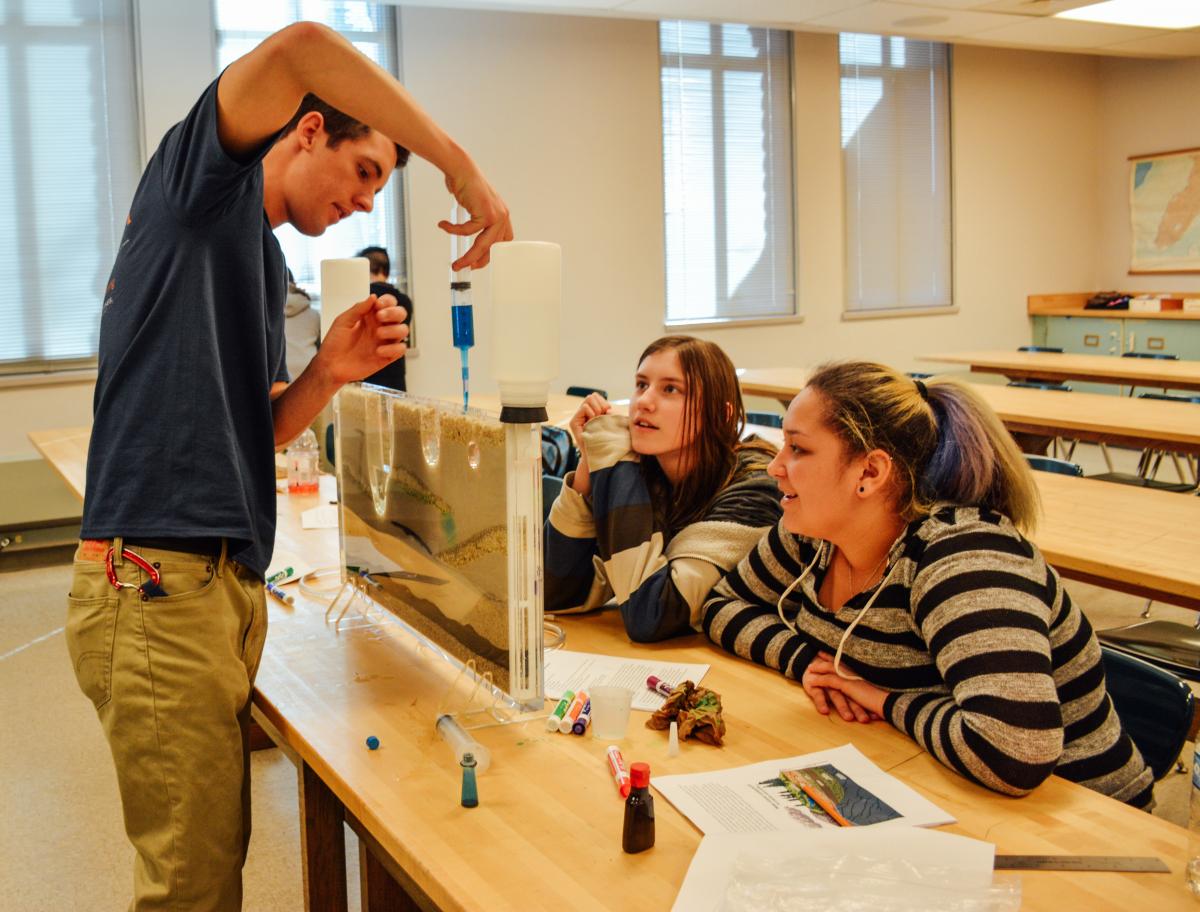 "For most of these students, this was their first time on a college campus," said Kamini Singha, associate director of the Hydrologic Science and Engineering (HSE) Program, associate professor of Geology and Geological Engineering, and PI of the grant. "College isn't a path that some of these students think they are destined for, so we wanted to show them how they could contribute to solving some of the world's important problems moving forward."
Five students from the HSE Program and two staff members from the Integrated Groundwater Modeling Center volunteered to help design interactive labs for JHS students. In these labs, the high school students examined groundwater contamination using sand tanks, created chemical precipitates given chemical reactions and propagated earthquakes using an iPad seismometer app. They also participated in a scavenger hunt to learn about different rock types at the Geology Museum and toured four Mines labs: the Center for Experimental Study of Subsurface Environmental Processes, the Center for Rock Abuse, the Single Molecule Biophysics Laboratory and the Excavation Engineering and Earth Mechanics Institute.
"I was incredibly impressed with these students. I hope that by the end of the day college seemed a little more accessible, and Mines a school they'd think about applying to," Singha said.
Contact:
Kathleen Morton, Digital Media and Communications Manager, Colorado School of Mines | 303-273-3088 | kmorton@mines.edu
Karen Gilbert, Director of Public Relations, Colorado School of Mines | 303-273-3541 | kgilbert@mines.edu