GOLDEN, Colo., March 15, 2016 –A team of four Mines graduate students competed in the final round of the 2016 Schulich International Case Competition at the Schulich School of Business on March 5-6 in Toronto, Canada. The competition was framed around providing innovative ideas for the mining industry.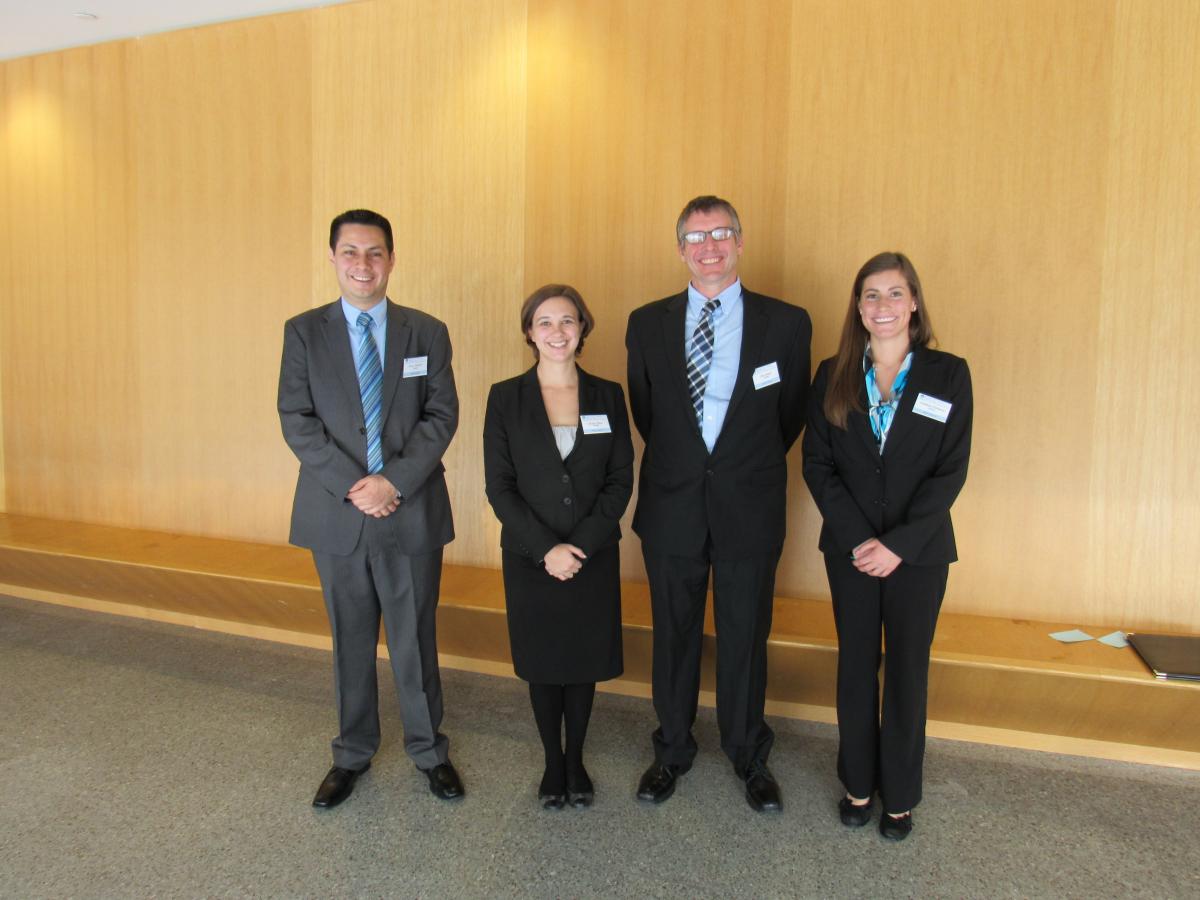 The Mines team from left: Franz Martinez, Skylar ZIllox, John Meyer, Chelsea Pomeroy
Franz Martinez (MS, Economics & Business), John Meyer (Ph.D., Mining Engineering), Chelsea Pomeroy (MS, Mining Engineering) and Skylar Zilliox (MS, Environmental Engineering) presented their recommendations for how a fictional mining company can prioritize investments to create sustainable business strategies around a large developing-country mining project. The team was coached by the College of Earth Resource Sciences and Engineering professors Graham Davis (Economics and Business), Hugh Miller (Mining Engineering) and Jessica Smith (Liberal Arts and International Studies). Sponsors included Ryan Bennett and Ross Bhappu, and Senior Partners at Resource Capital Funds.
Although the Mines team did not win the finals, they did cite the entire competition as a valuable learning experience.
"It's really exciting to see Mines expanding its presence in the corporate social responsibility arena by participating in the competition," Faculty mentor Jessica Smith said. "I'm so proud of our students for putting on a strong performance and showing the rest of the competition—primarily from business school programs—that engineers from a variety of disciplines have a lot of expertise and innovative ideas to share on how to make mining sustainable for companies and communities alike."
Contact:
Agata Bogucka, Information Specialist, College of Earth Resource Sciences & Engineering | 303-384-2657 | abogucka@mines.edu
Kathleen Morton, Digital Media and Communications Manager, Colorado School of Mines | 303-273-3088 | kmorton@mines.edu