University Innovation Fellow envisions structured programs for sustainability, renewable energy
Mechanical engineering junior will work toward creating structured programs geared toward sustainability, renewable energy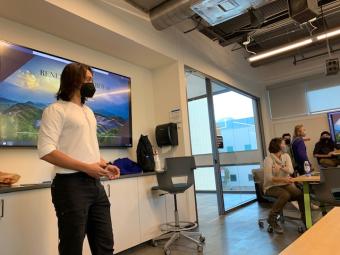 Adam Schwartz, a junior majoring in mechanical engineering, was walking around campus earlier this year when a flyer caught his eye
"It said something like, 'Do you want to make a difference?' And I said ,'Yes, I do," Schwartz said.
The flyer was for University Innovation Fellows (UIF), a program that empowers students to become agents of change at their schools. A program of Stanford University's Hasso Plattner Institute of Design, UIF was created as part of the National Center for Engineering Pathways to Innovation, sustained by a five-year National Science Foundation grant.
UIF trains students to follow their passion for innovation and learn how to work with their peers, faculty members and university administrators to create new learning opportunities at their schools. Schwartz, who has long been interested in the topics of sustainability and renewable energy, applied for the program.
"You start out with online training and learning about design thinking and project planning," he said. "As you progress, the training gets more specific to your university and your goals."
Schwartz was tasked with getting out into the Mines community and talking to a lot of different people – students, to find out what they thought about the issue of renewable energy, for starters. Then he met with key Mines faculty and staff to figure out what might be possible.
What he found was that while several clubs and activities give students the opportunity to engage in sustainable practices or learn more about renewable energy – Schwartz himself has participated in Solar Decathlon, Green Team, Hike for Help and Socially Responsible Scientists and Engineers – there wasn't a structured, straight-forward program where students could get targeted academic experience that leads to a career specifically in the renewable energy sector.
Schwartz's proposed idea includes creating an interdisciplinary department or program that focuses on preparing students for renewable energy jobs. The first step is to create a distinction for graduating students, and then work toward building and funding a distinct program. After conducting focus groups and surveys among his fellow undergraduates, he found that many students are on board with the idea.
After going through six weeks of training, gathering data and meeting with stakeholders on campus, Schwartz's proposal was sent to UIF at Stanford. After review, UIF accepted him as a fellow.
Next steps? Schwartz will continue working with the different departments involved in his proposal and deliver a presentation to Mines executive leadership on why Mines needs a distinct program and the benefits it would provide. He is hopeful Mines administration will be on board with his ideas.
"I think it's a no brainer," Schwartz said. "Mines is in a great position to do this. NREL is in our backyard. We have a wealth of technical and practical expertise among the faculty. We have great industry connections and alumni in the field. It just makes sense to have an institutional program that's designed for this."